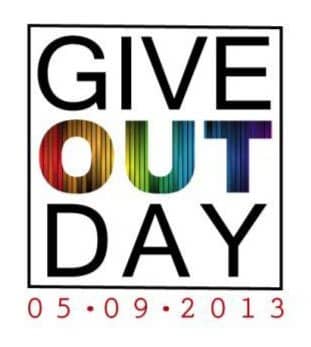 Being based in Minnesota, we at Brand g Vacations know the power of giving back. Our state hosts one of the largest "Days of Giving" in the country, when people are encouraged to give to their favorite non-profit organization(s) during a 24-hour period. Following that same great model, we've designated May 9, 2013 as Give OUT Day – the first national day of LGBT giving!
Our goal is for as many of us as possible, including our friends and families, to give what they can to the organization(s) of their choice on May 9 and to take the first step toward increasing LGBT philanthropy in the U.S. Whether it is $25 or $2,500, to your local gay chorus or a national LGBT rights organization, every gift matters. This also is a great opportunity to learn the depth and breadth of our LGBT organizations, with over 500 expected to participate.
To celebrate here in our hometown, we are organizing an event to gather people together as the clock ticks down and the money raised goes up. So if you are in the Twin Cities, please join us, and if not, please contact us as to how you can organize your own local event. Nominate your favorite LGBT organization today so that they can benefit on May 9: http://giveout.razoo.com/giving_events/giveout13/home
Details for Minneapolis Give OUT Day Event
The Graves 601 Hotel and Brand g Vacations invite you to join them to watch as the clock ticks down, and the funds go up for Give OUT Day. We hope that our Minnesota organizations will raise more money than any other state, so please come join Jim and Julie Graves of Graves Hospitality, as well as Jeff Gundvaldson, Brian Van Wey and Charlie Rounds from Brand g Vacations for a great night of giving.
Where: The Graves 601 Hotel (601 1st Avenue North, Minneapolis)
When: May 9, 2013, 6:00-9:00 PM
Fun: Great hors d'oeuvres provided by the Graves Hotel and Brand g Vacations, and special drink prices.
More fun: Live music, online computers so that you can give right on the spot, and of course a chance to see old friends and make new ones. Special Guest Ben Francisco Maulbeck, Executive Director of LGBT Funders.