Brand g Vacations Treasures of Golden Myanmar School Donation
Minneapolis, MN, December 29, 2015– On their tour in November, a group of tourists with Brand g Vacations opened their pockets generously to support a school in rural Myanmar.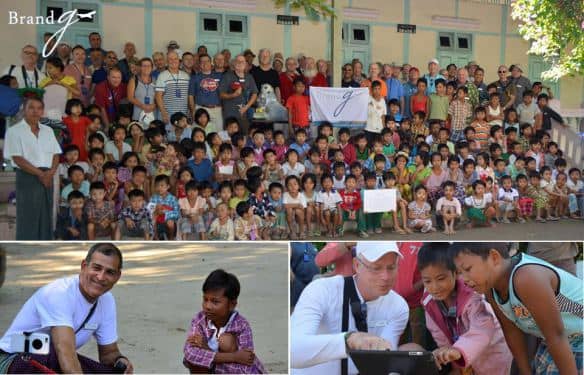 It is often easiest to give to organizations with which we identify, and which support causes that directly affect our lives. However, as evidenced by LGBT travelers on this recent trip to Myanmar, the generosity of the LGBT community often goes beyond gay and lesbian organizations and LGBT friendly charities.
LGBT tour operator, Brand g Vacations, chartered the Irrawaddy Explorer for a cruise on the Irrawaddy River in Myanmar.  The Irrawaddy Explorer supports a primary school in the tiny village of Yandabo, Myanmar, and had set a goal to raise $850 to put a much needed new roof on the village school building.
Only $250 had been raised from previous charters over a period of more than two months. Tour groups regularly donate school supplies on visits to schools on their tours, but Jan and Lois, a long-term couple who recently married in Minnesota, learned about this critical need. They appealed to their fellow travelers on the Brand g tour and the guests more than doubled the amount needed, generously contributing more than $1,400.
When the school's headmaster was informed about the donation, he called in the town's mayors to accept the gift. The additional funds raised will be used to purchase much-needed desks, furnishings and additional learning materials for the students.
"I am not surprised at all to witness such generosity from our guests," says Jeff Gundvaldson, co-owner of Brand g Vacations. "Our guests are very engaged in the world community and see travel as a way to further educate themselves and to interact with the people in the countries we visit." Gundvaldson goes on to say "some of the most compelling moments for our guests are the opportunities to make personal connections with the local residents in the countries we visit. They recognize how fortunate they are to be able to travel the world and, when presented with a need, they are quick to respond with great generosity and compassion."
Founded in 2011 as "the next generation in lgbt travel," Brand g Vacations offers unique and compelling tours to lesser-traveled corners of the globe for their guests.
"We always aim for exotic bucket list destinations along with some of the tried and true more popular spots" says Gundvaldson. "What really makes us special is our emphasis on unique destinations and smaller ships, which translates to more intimate personal experiences for our travelers."