By Susan Cogger, LGBT rights activist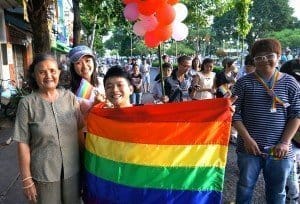 The Vietnam LGBT community is celebrating Pride this month with parades in eight cities. The government is considering legalizing same-sex marriage with the Justice and Health Ministries having publicly supported the move. If approved, Vietnam would be the first Asian nation to legalize same-sex marriage.
There is no question that a ship full of LGBT passengers makes a strong statement.  Brand G Vacations' October Mekong River cruise will be spectacular.  You'll travel through some of the most interesting parts of the world in the company of other LGBT folks on a luxury riverboat.
Just saying the names of these countries conjures memories and images from war to peace, ancient temples to bustling cities, street food to luxury service. This is a chance to get to see some of the best of Cambodia and Vietnam in a great environment in the comfort of an all LGBT trip.  This 12-day trip takes you from the amazing Angkor temples, to the Mekong river with floating markets and small villages, to Ho Chi Minh City (Saigon).
The trip is during the latter part of October as the rainy season tapers off and the weather is cooler. This is a beautiful, lush time to visit. Recently, Cambodia and Vietnam have experienced huge growth in travel and the infrastructure to support travel. No doubt, these countries will continue to change and evolve so this is a perfect time to explore these Southeast Asian countries.
Brand G Vacations (www.brandgvacations.com) has an extensive background in cruise travel and creating great vacations.  As this is a Brand g vacation, all are welcome on board!
Author's Note: I'm especially excited for this trip, as it will be Terry's and my honeymoon.  Since the freedom to marry became legal in Minnesota on August 1, many of our friends have married.  And we're not the only ones celebrating by going on this trip.  Do join us!