Even if you've been to Germany and Austria before, doing a Christmas Markets cruise is a completely unique and magical experience. (Brand g is again offering this cruise in early December of 2022. Our first one was a smash.)
Europe takes Christmas festivities as a personal challenge and seeing the quaint villages – and grand cities like Vienna – decorated for the holidays is like living in a European Hallmark movie, except not everyone's white.
The Christmas Markets – obviously. They are BEYOND charming, and you'll find them in virtually every village or city your cruise ports at. The markets are arrangements (sometimes a hundred or more) of wooden stalls selling all manner of adorable Christmas ornaments, nativity displays and the like; and they're a great place for holiday gifts. Enjoy a mug of hot chocolate or gluhwein (pronounced "glue-vine" – warm, mulled wine with spices) as you shop. Caution: if you enjoy 4 or 5, you may need a steamer trunk to get your purchases home.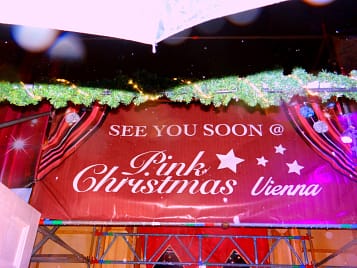 The Pink Christmas markets – these are gay versions of the Christmas markets. Packed with LGBT folk, drag queens, and often shows, these markets generally feature higher-quality artisan versions of the tchotchkes you'll find at the regular Christmas markets. Get your dance on, flirt with the hot European clientele, and shop like the American you are. You'll only find these, of course, in the bigger cities, like Vienna, Munich, etc.
Neuschwanstein Castle – about two hours outside of Munich in the Bavarian countryside, it is one of Europe's most over-the-top castles. Built by Mad King Ludwig (for just himself!) in the 1800's, it's a phantasmagoria of turrets and oddities, set in a stunning location. Day trips are available via tour companies like Viator from Munich. Unquestionably worth it. (Friends of ours overslept for our day tour, and ended up spending $200 on a one-way cab ride in order to make it there to tour with us. They still maintain it was worth every penny.)
The Vienna Opera house – one of the world's great theatres, this building is a treasure trove of chandelier-lit rooms and grand staircases, culminating in the spectacular opera house itself. Get a standing-room only seat for a performance (they're only 5 or 6 Euro), or pop for 300 Euro orchestra seats. Whatever you do, just be there. And dress well. You certainly don't need to be in black tie, but you'll feel out of place in jeans and a light-up Christmas sweater. Austrians take a night at the opera seriously.
Vienna's Ringstrasse – this is the grand boulevard that surrounds the historic inner district of Vienna, and is home to more grand, architecturally eye-popping European buildings than just about anywhere in Europe. Take a city tour, or just do a hop-on, hop-off bus to view the scores of simply stunning monuments like the Imperial Palace, Parliament and the National Theater. It's as if Disneyland married a European Monopoly board. Spectacular.
Salzburg – the birthplace of Mozart (his home is in the Old Town) and many of the locations where The Sound of Music was filmed are found in this quintessentially Austrian city. Do a Do Re Mi at the Mirabell Gardens. Shop in the fantastic little boutiques in Salzburg's insanely charming (and walled) Old Town. If you have time and can overnight here, take in a Mozart concert and dinner. The setting is spectacular and the entertainment surprisingly top-notch.
Melk Abbey – Set atop a rocky outcrop along the Danube in Melk, Austria, this supremely stately – and brilliantly restored – Benedictine abbey was built in the early 1700's and now includes a school as well. There are many amazing destinations within the Abbey, including the library, the huge balcony outlook that affords stunning views of the Danube and the countryside, and the grand chapel that looks like it was designed by Liberace's costume designer. There's so much gold leaf you may need sunglasses. If you ever wonder where all those Catholic tithes went, look no further.
Nuremberg's Old Town – there are lots of Old Towns (usually-walled cities from the 1700's and 1800's) in Europe, but Nuremberg's is especially charming and quintessentially German. Have a shockingly inexpensive beer here and wander among the cobblestone streets that will make you feel like you've landed in a cuckoo clock. After you've quenched your thirst for Bavarian atmosphere, consider a day trip to one of the most sobering (and moving) sites you'll ever visit – Dachau Concentration Camp. This is not the Laugh Factory, obviously; but it is a must-see testament to humanity's dark side and a reminder that we must never let authoritarians win.
And then, of course (if you take a Brand g Christmas Markets cruise) there are the onboard parties, signature Brand g entertainers and festive Christmas dinners aboard your glam river cruise ship. All of these destinations and moments combine to make this feel like a fairy tale.
Maybe you'll even meet your prince (or princess). Just sayin'.