Dear Brand g friends and supporters:
Tis the season to reflect on what we are thankful for. Having just completed our second Mekong River Cruise of 2017, we wanted to share a story of giving that is far from over.
Earlier this year, and again last month, we had the privilege of visiting a school in the village of Angkor Ban, Cambodia. The school consists of one large room where all the children 5-14 years of age gather for lessons.
Guests from the first Brand g cruise pledged donations to the school to be delivered on Brand g's next visit. Because of their incredible generosity, we were able to purchase two laptop computers, a wireless router, surge protector and a 42" smart TV, so everyone can view what's on the computer.
As you can imagine, the schoolmaster was incredibly grateful as were the kids. After speaking with the schoolmaster we have decided that the next project will be to help create a library for the school and village. Not surprisingly, the guests from our second 2017 cruise were also inspired to make additional donations towards the library.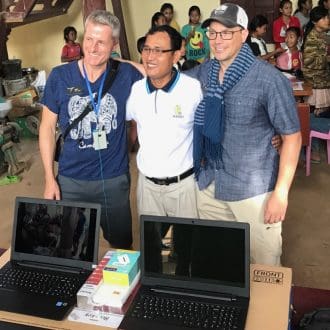 We'll continue to keep you updated through emails and blog posts so everyone can see that the generous donations have been put to very good use. My colleague Brian and I continue to be inspired, impressed and so grateful to travel with people like you, who see the power of giving back to the destinations and to the people that we care so much about.
From the bottom of our hearts and on behalf of the schoolmaster and children at the school, we thank you!
Jeff & Brian