Whether you travel with Brand g or go on a straight tour, definitely go with a tour group. Egypt can be a bit overwhelming to navigate on your own. Even something as mundane as getting through the airports can feel a little Herculean, but with a high-quality tour operator there to smooth the way, it's a breeze.
Egypt has dozens of wow moments, made even more special by what Brand g brings to the table. For expediency, I've narrowed that list down to just eight.
Cruising down the Nile
The Nile is the longest river in the world, and cruising down it is a special experience, as it carries you from the location of one amazing set of ruins to the next. But it's most special when you're traveling with Brand g (or at least another 5-star tour operator), because Brand g charters one of the finest vessels on the river, the Nile Sanctuary Adventurer.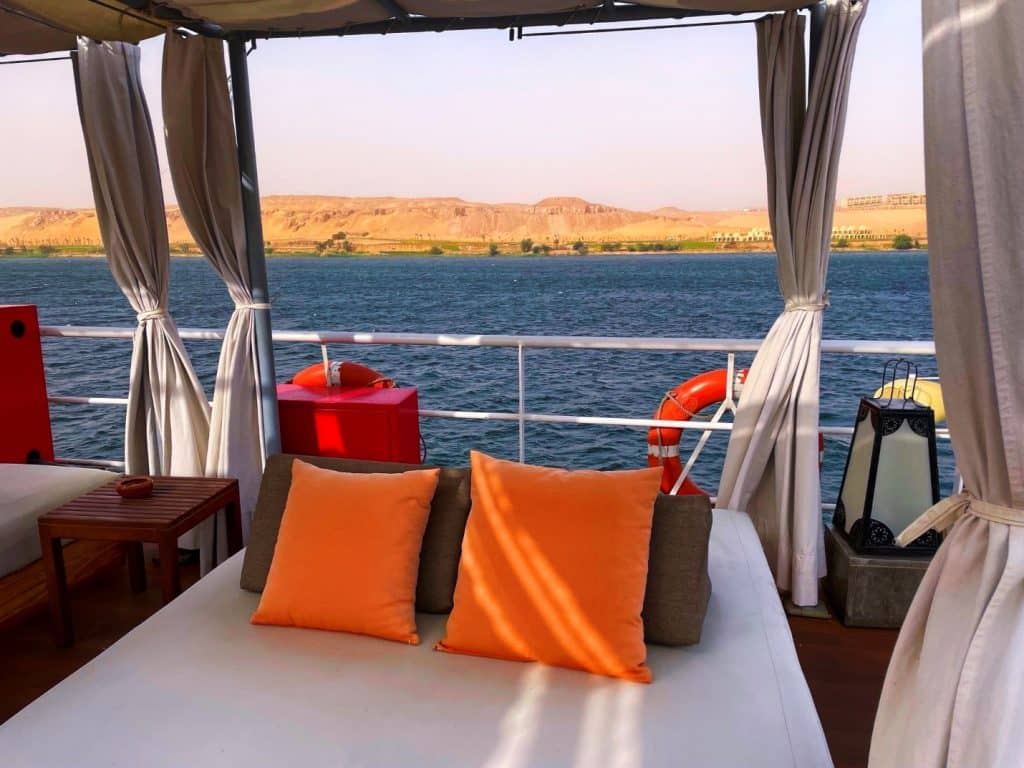 There are scores of ships on the river. But most are bland, soulless, 3 and 4-star vessels. The Sanctuary Adventurer is 5-star, with lovely contemporary Egyptian décor, first-class service (the staff-to-passenger ratio is nearly 1-to-1, an anomaly in the river cruise world) and exquisite food. The best meals we had in Egypt were on this cruise.
Lunch at 9 Pyramids Lounge
This restaurant is in a simply stunning location – in full, unobstructed view of the pyramids of Giza. Featuring floor-to-ceiling glass walls that open to the desert, along with an outdoor deck (and cushy lounge area), it's airy and contemporary and one-of-a-kind (the only restaurant at the pyramids). You cannot even access the area where the restaurant is located unless you have a reservation, so the chances of rando's wandering into your photos are extremely limited.
The food is fresh and fully Egyptian, and was among the best restaurant meals we had in Egypt. Brand g paid for this experience as part of our day of touring the pyramids, so I can't speak to pricing, but be warned – if you go on your own, it's probably quite expensive.
Posing Among the Pillars at Karnack
This absolutely stunning temple complex is so imposing it will take your breath away, and posing amongst the dozens of giant pillars gives you not only great photos, but a real sense of the majesty of ancient Egypt. (See Part 1 of this blog.)
Go in the morning or evening for the best light, as it filters through the columns.
Riding a Camel
Yes, it's cliched. Yes, it's touristy. But it is an experience everyone should have. These (mostly) gentle giants kneel down to let you climb on, then take you on a 7 or 8-foot high stroll – camels are tall – across the desert. If you can, do it at the pyramids of Giza, because your camel jockey will take photos of you riding in front of the pyramids.
The trick with negotiating a camel ride is that their owners will vastly overcharge you, depending on how much they think they can get. (Negotiating is an art form in Egypt.) A friend who wasn't on our Brand g tour paid $80 for a ride, and then another $20 TO GET OFF. Brand g handled all the logistics for us (we weren't even required to tip). And although I did give my guy an extra $5 because I liked him so much personally, there was no stress in making these rides happen – we just strolled over to a camel and got on.
Galabiyeh Party
On board the ship, Brand g gifted each guest a galabiyeh – traditional Egyptian garb that's a long, embroidered robe (we each got to pick the one we wanted). That evening, we wore them to dinner and for a dance party after. People really got into the spirit of the culture. Did some go commando under their robes? Probably. Did anyone discover this fact later in someone else's cabin? Probably. Let's just say that a good time was had by all and leave it at that.
Licensed Egyptologists
Tourists who go on their own or with a 3 or 4-star group tour are treated to guides who don't have degrees in Egyptology; so who knows how much of what they're telling you is actually correct. Our Brand g tour featured some of the top Egyptology guides available (all were licensed, underwent a 4-year degree program and had been plying their craft for 20+ years), and it showed. Their fount of knowledge was endless and fascinating, as they wove stories of ancient Egypt while we toured the various temples and sites.
They also became a part of our extended family, as they were with us on our day tours and on our Nile cruise.
Extra Buses
This may seem like a small thing, but on an 8-day tour, it's not. Brand g always charters extra buses. Standard tours cram all 40+ guests into one large bus. Sure they fit, but it feels claustrophobic. Brand g chartered two buses, so that everyone could spread out and have a window view if they wanted. A handful of couples continued to sit together in one pair of seats, but most of us took the opportunity to have a row to ourselves and not miss a thing out the windows.
This was especially welcome to people like me. I'm 6'3", and ALL buses tend to be a bit tight for me, legroom-wise. This way, I could splay across the two seats and never feel cramped.
Hand Holding Throughout
Egypt is a Muslim country. (It does have Christians and a handful of Jews, but the point is, it's conservative and culturally quite different.) This is one of the biggest reasons why I say, GO WITH A TOUR. It can be very easy to do the wrong thing, culturally, when no one is there to guide you.
Brand g provided the highest level of personal service I've ever encountered on a tour. Arriving or departing in the middle of the night? There was a rep there to meet you and guide you through immigration, customs, etc.
We had security on every bus and tour. None of us ever felt in ANY kind of danger or under any threat, but it was still nice to know they were there, particularly given that we were a gay group in a conservative country.
When we arrived at hotels (and on the cruise ship), room keys were immediately handed out – no checking in, no waiting – which was particularly welcome if the day had been long. (There was a hiccup with the Marriott in Cairo, but that hotel is being replaced for the 2023 trip.)
Individuals' dietary restrictions were accommodated at every meal. Requests for specific seats on flights were met wherever possible. Our guides helped us negotiate prices for souvenirs with vendors. In short, we had to do nothing but show up and enjoy ourselves.
With that said, there are a handful of very valuable tips that can make your visit to Egypt even more stress-free. Check out Part 3 here: