Egypt is definitely a foreign culture. This isn't some European country where although the language is different, customs generally aren't.
Because the country is heavily Muslim, it's conservative. This does NOT mean – at least when you're in the Brand g bubble – that you are in any way under threat. But it does mean some minor accommodations have to be made to navigate this culture.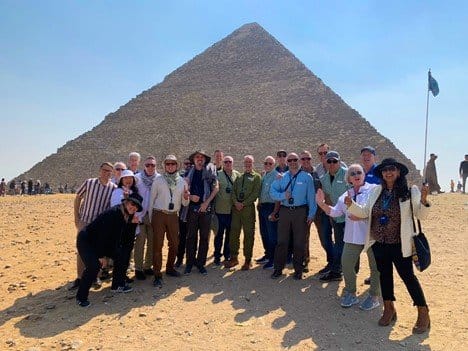 Dress Appropriately
For everyone:
Long pants are worn by Egyptians – only tourists wear shorts. That doesn't mean you can't wear them if it's hot (a number of us did on a couple of the warm days), but know that if you want to fit in, you should wear casual slacks, like chinos or light Eddie Bauer-type pants.
For Women:
First of all, you'll rarely see someone in a burqa. This is not Syria. But most Muslim women do wear decorative scarves around their heads. (Their scarves and galabiyehs can be quite fashionable.) However, as tourists, women are NOT required to abide by this custom at all.
In short, everyone should just dress a bit more conservatively than you might in the U.S. Leave those Daisy Dukes and the glitter tube top at home.
Bring Small Bills
Most public bathrooms request or require a small donation to the attendant, usually about 5 Egyptian pounds (equivalent to about 30 cents U.S.). Get small bills at an ATM when you arrive (or cash larger bills for smaller ones at your hotel).
Also, if you choose to take a photo of an Arab in traditional garb at a monument (many men "pose" like this as a side hustle), they will ask you for money. Have a 5 or 10-pound note to give them.
You can also bring a stack of $1 US bills for the same purpose. You'll end up spending a bit more, but US dollars are widely accepted and they're great in a pinch.
Don't Let Someone Take Your Picture Unless it's Another Tourist
Egyptians at various sites will happily take your camera and shoot a picture of you – then expect a tip. Best to stick to someone you know is a tourist.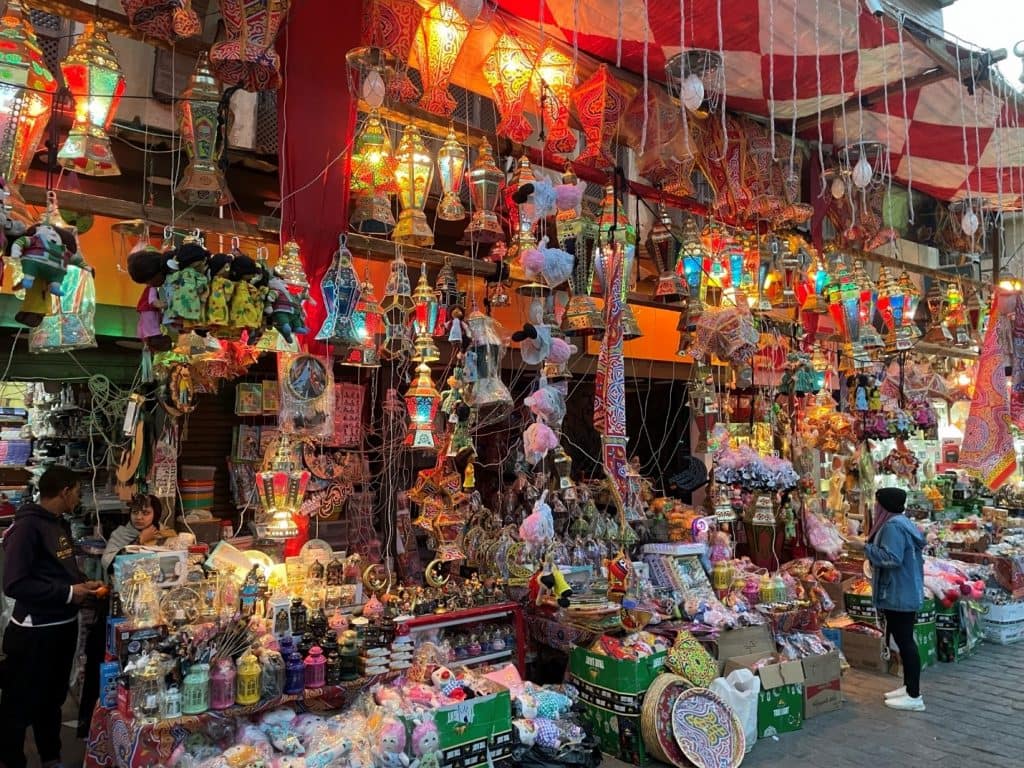 Dealing With Street Vendors
They can be aggressive. (Much more so here than in Jordan, where we also visited.) They will accost you. They will put things around your neck or hand them to you. They're not threatening, just annoying.
The best way to deal with this is to literally ignore them. Don't make eye contact. (You're not being rude, they're fully accustomed to being ignored.) Don't pick up or point at things unless you're genuinely interested.
If they're bothering you and you're not interested in what they have to sell, just say "No", or "La la la", which is "No, no, no" in Arabic. They will eventually give up. We repeatedly passed one woman's stall, and she kept saying, "Help me support my children", to which one of our group replied, "Help me support MINE!" We weren't trying to be unkind or arrogant, but this kind of "guilt selling" is a common sales tactic that you catch onto quickly.
If you DO want to purchase something, negotiate. Start at ¼ of the price they ask and you'll end up at 30 or 40% of the original price. And be willing to walk away, even if it's only a ruse. NEVER pay their requested price, which is inflated, particularly for "rich" Americans. This can actually end up being kind of fun, and you'll be proud of your skills at nabbing a bargain.
Use MasterCard or VISA
When buying something in a shop, or paying a restaurant tab, and you want to use a credit card, bring one (or two) Mastercard and VISA cards. American Express is not widely accepted here. And of course, always have them charge it in Egyptian pounds, NOT U.S. dollars (otherwise you'll get scammed on the exchange rate).
Visit Sites Early or Late
If you're going in the hot months (May-Sept), visit sites in the early morning and early evening wherever possible. There is very little shade, so it can be uncomfortably warm and the sun can be relentless. During the day, bring a hat, even if you're not losing any hair.
A note about weather: in the spring and fall months, the weather is delightful – days in the 70's or 80's and very dry. It's only the summer that can be brutal.
Visit at Least One Site At Dusk
Egypt illuminates their ruins extremely well, and it gives them a truly magical glow, which makes for amazing photos.
Tickets for the Valley of the Kings
Egypt seems to love issuing multiple tickets for various tourist sites. There are a number of amazing tombs in the Valley of the Kings (and Queens), and each is ticketed separately. (The government seems to have a whole category of employment for ticket takers.)
Brand g paid for tickets for ALL of the major tombs, so we were covered; but if you're going on a less-inclusive tour, be sure to get tickets for each of these when you enter. (You have to take a tram from the entrance down to the tombs, so it's not like there are ticketing booths next to each tomb.)
Recommended Purchases
There are four major items that are not only popular but extremely well done in Egypt:
Papyrus – this is Egyptian art on papyrus paper. Buy from a legitimate store or gallery, not a street vendor (where they're likely just ink-stamped images on a cheap papyrus lookalike, probably made in China). In a qualified store, they can run from about $50 up to a few hundred (unframed).
Alabaster – again here, buy from a legitimate store. The stuff on the street is imitation. We bought alabaster tealight candle holders at the Egyptian Museum (for like $20 each), where every product is vetted.
Cartouches – these are Egyptian hieroglyphic symbols (typically spelling out your name) on a small dog tag-like piece of sterling silver or gold. Friends bought them on board the Nile Sanctuary cruise ship in sterling silver for $70 each (not including a chain). If you take the Brand g trip, we recommend buying them there – they tend to be cheaper on the ship than in cartouche stores. (And yes, you can negotiate prices even on the ship.)
Rugs – as always, go to a legitimate store/gallery. The prices aren't the absurdly cheap ones they were maybe 30 or 40 years ago (Egyptians know that they're a popular item for Americans), but they're still very well-priced, and they usually include door-to-door shipping.
Fly Business Class or Premium Economy
This isn't a snob thing – it's a loooong flight. We flew from LA to Doha, Qatar, then connected to Cairo. LA to Doha is 16 hours. That's a long time in a coach seat, particularly if the flight is full. (And it's literally my version of hell, since I have giraffe legs and barely fit in a coach seat, anyway.)
If business class isn't an option (it can be expensive going to this part of the world), another option is to break up the flights so you're not sitting for so long at a stretch. Say you're flying from LA: fly LA to New York, New York to London, London to Cairo. This may add another connection, but it breaks up the monotony and allows you to stretch and move around between flights. Deep vein thrombosis (from sitting too long) is a real thing. It happened to a friend of ours and can be life threatening. And nobody looks glamorous in a hospital bed.
These tips should help make your trip to Egypt not only memorable, but smooth and easy and as Bucket List Fabulous as you want it to be. Ready to go? If you'd like to do it with Brand g, our 2023 trip is sold out, but a waitlist is available; and our 2024 trip will be available this fall.