Asia is, for us at Brand g, one of our favorite destinations, and one that gets some of the best reviews of all the places we travel to across the world. "Life-changing" and "Best trip of our lives" are phrases we hear a lot, along with "my skin was dewy fresh" (what can we say, it can be humid).
But traveling to Asia – whether it's Japan or the southeast Asian countries – can be a bit of culture shock, and it can overwhelm the solo traveler. So, we recommend taking a group tour, whether with us or a straight tour company. This isn't Europe; few people speak English, and navigating the confusing (or, in some cases, third world) infrastructure can be challenging without an experienced tour guide.
So, let's assume you've found your group tour. Here, then, are some tips that will help make the experience even smoother and more memorable.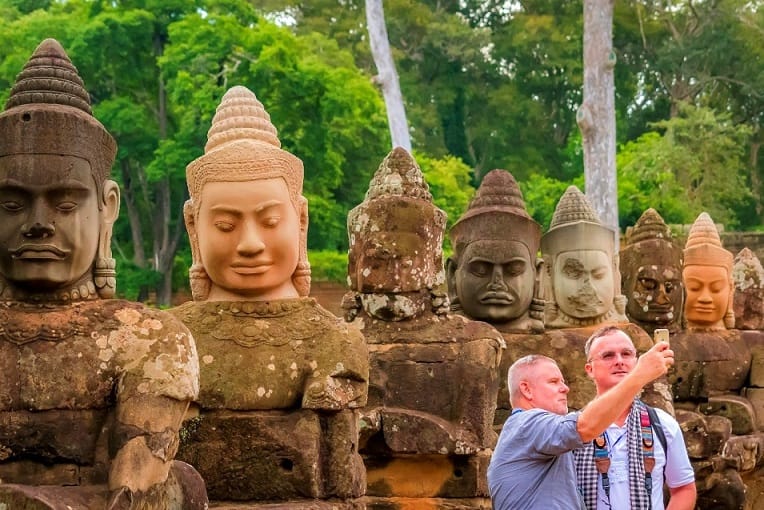 Travel Docs: Know your visa and passport requirements. Some countries require a visa, which you can get either online in advance or in-person when you arrive, depending on the country. And some countries require a minimum number of blank pages in the back of your passport, so if you've been writing down phone numbers of hot local guys on those pages, it may be time to trade in your passport. (You can no longer get extra blank pages to add to your passport; it has to be renewed.)
The U.S. State Department website has all the info you need.
Packing: This is probably not the time for that slutty Spandex unitard. Pack lots of loose-fitting cotton clothing. No rayon, polyester, etc. The humidity (in the southeast Asia countries) will often be considerable, and if the temperature is warm, you don't want to sweat like a sex offender on a playground. Modest clothing is also necessary for visiting many temples and monasteries; shoulders should be covered (no tank tops) and long shorts or pants are best. You can always buy a cheap scarf outside the temples to wrap around your legs if you're wearing those Daisy Dukes you bought at Hotlanta.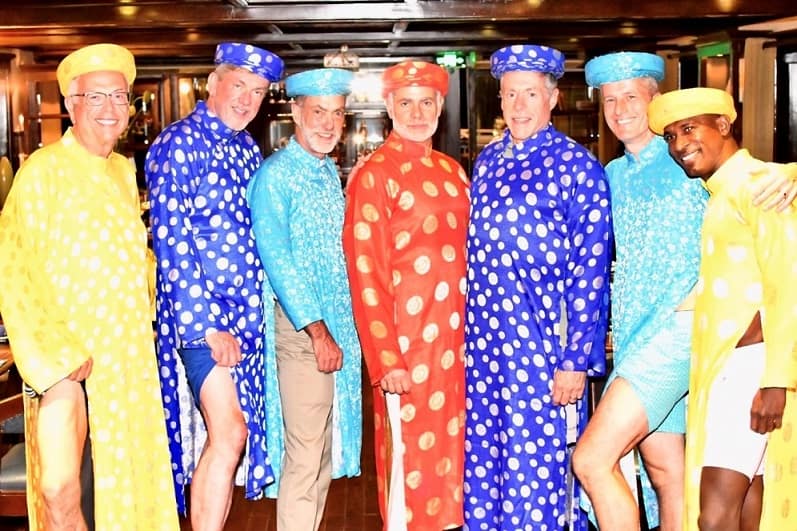 Shopping: Don't be afraid to bargain. Particularly in southeast Asia, this is a local sport. Ask for their best price, and then offer half of that and begin negotiating. This is true of both street markets and many stores. (We bought a piece of art in a gallery in Hue, Vietnam that was marked $125, for $60 cash.) In Japan, it's fairly common at street markets, but NOT at regular stores. Now, we all know there's no such thing as a $10 Louis Vuitton wallet. So, if you're fine with a knockoff, go for it, but don't delude yourself into thinking you just scored the bargain of the century.
Street Food: Asia is known for its astoundingly inexpensive and tasty street food. In Japan, you're pretty much safe to eat it anywhere. In Southeast Asia, avoid fresh fruit (watered with iffy local water) and seafood, and stick with pork. "Do you eat the street food?" I asked our guide in Vietnam. "Oh, yes," he replied. "I especially like rat on a stick." He wasn't kidding.
Currency: Bring cash. In cities like Tokyo and Bangkok, you can use your credit card, of course, but if you're in a small town on the Mekong River, they'll look at you like you've just handed them the keys to the Millennium Falcon. Get cash at an ATM in the airport or in a big city before you head to the hinterlands. (And know that river cruise ships generally don't have ATM's onboard, nor do they offer currency exchange.)
Language: Be prepared. Even in the big cities, few people – outside of the front desk staff at big hotels and such – speak English. This is, once again, where your tour guide comes in handy. Having someone to intercede on your behalf is invaluable when you refuse to leave a street market without that $20 pair of "genuine" Gucci loafers.
Selfies:  Expect to be asked for selfies if you're especially tall ("I was worshipped like a God" one guest commented) or if you're in a village where they don't see a lot of non-Asian folk. Just as we love to get atmospheric shots of foreigners, so do they. We are, after all, as exotic to them as they are to us.
Accommodations: This is the place to invest your vacation dollars. Because the cities can be cacophonous (the sheer number of people in Tokyo, the six million motorcycles in Hanoi, etc), book a good hotel or river cruise ship. Having a luxurious place to come back to after a day of semi-culture shock can be worth its weight in yen. Let's face it, we all want to have a life-changing experience. But most of us would like to have a life-changing experience followed by a nice dinner and a bottle of wine.  In Southeast Asia (not so in Japan, unfortunately), you can get 5-star accommodations for the price of a 3 or 4-star hotel in the U.S.
And finally – Take a Tour: Yes, we're repeating ourselves. Trust us – you'll feel much more comfortable when surrounded by a small group of fellow Americans (or other English speakers) and a tour guide who knows the local customs. We all want to experience the culture in as many ways as possible, but we'd like to not live the real-life equivalent of The Hangover 2.