Introduction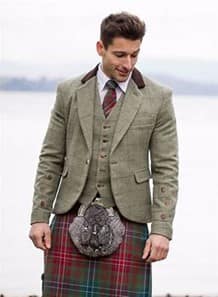 As Julie Andrews once said, "let's start from the very beginning". So, what is Tartan and what is a kilt? Here, Johnathon Gallagher, Brand g's Director of Operations, and resident Scot gives you an insight into his native attire.
Tartan – [ˈtɑːt(ə)n] NOUN
a woollen cloth woven in one of several patterns of colored checks and intersecting lines, especially of a design associated with a particular Scottish clan.
Kilt – [kɪlt] NOUN
a garment resembling a knee-length skirt of pleated tartan cloth, traditionally worn by men as part of Scottish Highland dress and now also worn by women and girls.
As a true Scotsman, a few things in the official descriptions deeply offend me. Likening Tartan to floral Chintzes is a no-no, but even worse still is referring to a Kilt as a knee length "skirt". Seriously, if you join Brand g Vacations' 2021 or 2022 Scotland trips, it's best to stay away from all that talk of skirts. A kilt is a kilt, end of story!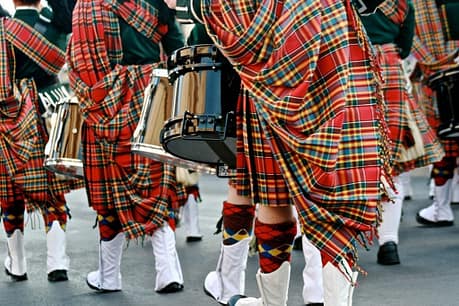 History of Tartan
Tartan has an ancient history. The earliest known tartan in Scotland can be dated to the third or fourth century AD. In other parts of the world, tartan cloth has been found dating to approximately 3000 BC. … Tartan, in general, however came to be extremely popular in Scottish Highland culture. Indeed, Scottish tartans are a representation of a Scottish clan, and each Scottish family has their own tartan, distinguished by their surname.
There are over 25,000 registered Scottish tartans. However, thinking of our Celtic neighbours, Irish tartans are designed to represent the districts and counties of Ireland. This can be a little confusing as many of us 5th generation Scots are indeed from old Irish stock, so we get a fair amount of Tartan crossovers and envy of the "real" Scots with Ancient Tartans.
In modern times, often people wear the tartan of their mother's maiden name or the tartan of a Scottish district. Tartans have become popular for sporting teams and businesses as well as locations and modern design themes. In 2008, an Act of Scottish Parliament established a National Register of Tartans which can be found HERE and contains loads of information.
Estimates of the number of Americans claiming a Scottish ancestry vary between nine and 20 million. If one includes those US citizens who have Scottish ancestry but don't know it . . . 20 million is possibly nearer the mark.
In the United States, half the signatories of the Declaration of Independence were of Scottish descent; 13 governors of the newly created United States were of Scottish descent . . . as were 11 Presidents, half the Secretaries of the Treasury and a third of the Secretaries of State.
34 American states have their own tartan adding to the 630 other tartans for American companies, cities, military organisations, fire departments, schools & universities, Highland games, sports teams, private individuals, police forces and a diverse range of other organisations including famous names such as the FBI, the California Highway Patrol, Encyclopaedia Britannica, American Express, 7th Cavalry, Westpoint Military Academy and even the US Marines. See if your state has a tartan HERE.
Why not take the time to search for your family or other tartan HERE. Who knows, you may even find you hail from the oldest clan in Scotland, Clan Donnachaidh. Also known as Clan Robertson, it is one of the oldest clans in Scotland with an ancestry dating back to the Royal House of Atholl. Members of this House held the Scottish throne during the 11th and 12th centuries.
History of the kilt
So, what brings a proud nation of men and now women to wrap a piece of wool 'round their body?
The kilt is more than just a covering. It allowed those who wore it to move much more freely, especially in the Highlands of Scotland where the weather can become very damp. With its tight weave of strong wool, it created a barrier between the rain and skin. When the armies of the past were fighting in Scotland, the kilt with its pleat helped protect the soldier much like armor would. When the nights became cold, this garment was easily removed and spread out to create a blanket to keep the person who owned it warm. Lastly, if the army needed to move with a much quicker force, the garment could be easily removed, thus allowing the soldier more freedom of movement.
The history of the kilt stretches back to at least the end of the 16th century. The kilt first appeared as the belted plaid or great kilt, a full-length garment whose upper half could be worn as a cloak draped over the shoulder or brought up over the head as a hood.
However, Thomas Rawlinson, an 18th-century English industrialist is widely reputed, though not without much controversy, to have been the inventor of the modern kilt. For anyone of Scottish ancestry, the kilt is a symbol of honour for the clan which they belong.
Prior to 1792 those who wanted to wear the kilt in the Lowlands or Britain, had to join the British army. The reason being that because of the swift and competent movements of the Highland armies, the English were afraid that if they let anyone wear the kilt it would spark the idea of revolution.
Indeed, the ongoing conflicts between the Scots and English that led to The Dress Act of 1746 were a part of the Act of Proscription which came into force on 1 August 1746, and made wearing "the Highland Dress" — including the kilt — illegal in Scotland.
Thankfully, all of us Scots are able to wear the kilt once more, and as time moves forward the kilt takes on many new twists, a few of which will doubtless be on display on our trips. (Leave it to a pile of gays.)
Brand g Vacations looks forward to hosting you on one of our Scottish Cruises and land tours where you will have the chance to wear a kilt as part of our State Dinner on board HM The Queen's Royal Yacht Britannia. For more details visit www.brandgvacations.com. Both 2021 and 2022 Scotland trips are waitlist only but watch out for a new date in 2023.