Sure, when you go to Peru, you wanna get your spiritual on at Machu Picchu, and cruise down the Amazon in 5-star style like the Peruvian princess you are.
But there's far more to Peru than jungle, Incan ruins and bitch-slapping each other over an alpaca sweater sale bin.  Lima – the country's capital – has an unprecedented foodie scene, full of Michelin-star restaurants that make 50 Best Lists the world over. And with a wildly favorable exchange rate for Americans, the bill at these world-class restaurants – unlike other foodie capitals like Paris, Tokyo, etc – don't require closing papers.
Central and Maido, for example, are both routinely voted among the world's 50 best (they once again received this honor in 2022). When friends and I took the Brand g Amazon/Machu Picchu trip a few months ago – which begins in Lima – we had dinner at Maido in a private room. (We were able to commandeer a private room because we were a party of 10.)
Maido specializes in Nikkei, which is Japanese/Peruvian fusion food (there was a wave of Japanese immigration to Peru in the late 19th and early 20th century). Our group had a voluminous tasting menu which, including a cocktail, tax and tip, came to $95 per person. Expensive, yes – but this meal, in LA, would be $300 per person.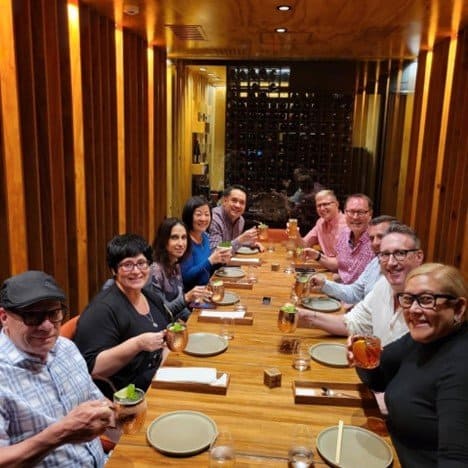 If you're an even remotely adventurous eater, a menu like this is a must-try. The food is brilliantly presented; a veritable cavalcade of food as art. We literally took photos of every dish.
Central and Mayta also made the world's 50 Best list. Central is often considered South America's finest restaurant. Featuring molecular gastronomy (a style of presentation made famous in the U.S. by Jose Andres), celebrity chef Virgilio Martinez Veliz' ultra-contemporary creations are structured around native ingredients chosen from different altitudes within Peru. Make a reservation; don't embarrass yourself by attempting to get a walk-in table.
Tip: Many of these Michelin-star restaurants only accept reservations about a month out. Set a calendar reminder to check on availability as soon as your desired date opens. Tables go fast.
https://centralrestaurante.com.pe/en/default.html
But what if you aren't a glam dining kind of person? There are memorable dining experiences to be had at both ends of the spectrum (and wallet). Locally-loved restaurants like Isolina (in the Barranca neighborhood) and Sonia (in the Chorrillos neighborhood) create inexpensive, hearty and beautifully prepared dishes of meat and seafood that taste like your mother made them – if she was a fabulous Peruvian chef. Think seafood soup with langostinos, or estofados (a beef stew). These meals can be had for as little as $10-15 at lunch and $15-25 at dinner.
https://www.restaurantsonia.com/
Now, the foodie scene in Peru is aided not only by Michelin-starred chefs, but by the variety of wonderful produce grown in this nosebleed nirvana (Peru boasts the highest tropical mountain region in the world): items like kiwicha – a superfood-type seed that can be popped like popcorn, rolled into flour or sprinkled on salads – quinoa, and over 4,000 varieties of potatoes. (Hey, you're on vacation. Eat a carb.) Not to mention the artful presentation of foods not common to American palates, like cuy (guinea pig, which I personally couldn't eat, because I had them as pets as a kid – seeing it on the table was my Bambi moment. Mascara may have run).
Whether you're dining at a local favorite or a higher-end superstar restaurant, there are Peruvian specialties you should be sure not to miss:
Ceviche is one of the most common traditional dishes, and frequently one of the best (heavily influenced by the Japanese Peruvians). Typically, it's whitefish marinated in fresh lime and chiles, served with a type of large-kernel white Andrean corn or sweet potato on the side; but you'll find it offered with many variations, like octopus, squid, shrimp, etc. Try it everywhere you go.
Cuy, as mentioned above, sounds quite innocent until you discover what it is – guinea pig, those adorable little rodents. (In Peru, they begin as pets, then become dinner. Hey, it's a different culture). I refused to try it, but I was told that it has a pleasantly gamey taste, like rabbit or wild fowl.
Pisco is the local liqueur – a brandy produced from eight varieties of Pisco grapes. It's been a part of Peruvian culture for more than four centuries. You can enjoy it straight up (to each his own – I found it a bit too gasoline-y on its own), or as the base for a cocktail like the popular Pisco Sour (noted for its great mouth feel, since it uses egg whites to create a frothy cocktail). On Brand g's trips, you'll get to learn how to make them during our Amazon cruise.
For those who like to do a deep dive while they dine, there are also foodie tours available from tour operators like Haku Tours or Exquisito Peru, or of course Viator (the massive and excellent tour aggregator), where you can learn about – and sometimes prepare – these regional specialties while you eat them.
Haku:
Exquisito Peru:
Viator:
So, if you're heading to Peru for one of Brand g's Amazon River Cruise and Machu Picchu vacations, or traveling there on your own, make sure you allow time to sample the incredible gastronomy on display in Lima. You might think it's just the higher altitude making you lightheaded, but in reality, it's the foodie fabulosity.