This is the first in a series of blogs about our staff's favorite experiences on a given trip. And where better to start than Africa, a continent with perhaps a wider array of amazing experiences than anywhere else on the planet.
THE SAFARI (Sabi Sabi Private Game Reserve, South Africa)
Jeff:
One of the best memories I have on safari is being just on the other side of the glass from a yearling lion cub. My husband Troy and I were about to leave our beautiful suite at the game lodge when I glanced out the window to the patio, and there stood the cub just on the other side of the glass. We sat and watched him and he us for quite some time. Finally, we had to call the lodge office to get a ranger to come rescue us so we could join the evening safari.
Eric:
We were headed home from our evening game drive one night, when our guide stopped the open-air jeep and turned to us. "They're coming," she said softly. "We're just gonna sit here and wait." So, we sat quietly for a minute or two in the pitch blackness, and then a herd of elephants lumbered quietly past us, on either side of the jeep – so close we could touch them. The heavy footsteps of these gentle giants and the swish of their trunks was a mesmerizing sound. I have never felt so much a part of nature as I did in that moment.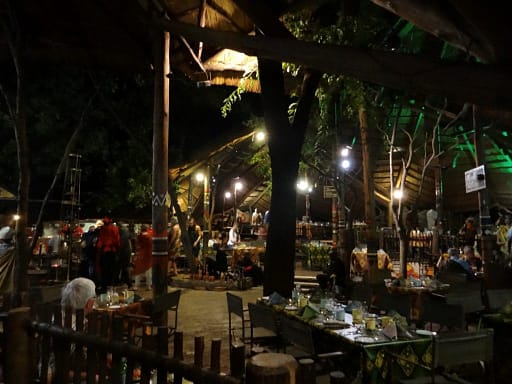 Another incredible – and ongoing element – during our stay at the game lodges was the exotic foods. We had kudu (a type of antelope), springbok (a type of gazelle) and wildebeest. These 5-star lodges employ amazing chefs, and the meals were extraordinarily good. Sure, you have to be a tad adventurous to try them (and of course they offer standard meats and vegetarian fare for those who don't wish to), but what an experience!
Johnathon:
Africa is home to the "Big 5", but my heart belongs not to Daddy but to the giraffe. Encountering these docile, magnificent beasts sent my heart a-flurry. There is something that turns me into a child when I see them. Sometimes you stumble onto a single one, but often they're in families of three or four or five, and they think nothing of crossing the dirt jeep paths right in front of you and forcing you to stop – which of course, you're happy to do!
VICTORIA FALLS, ZIMBABWE
Jeff:
One of my favorite memories is going to Devil's Pool at Victoria Falls. The Falls are so impressive to see from the air in a helicopter. But it is truly thrilling to wade out into the waters of the Zambezi River and jump into the Devil's Pool cataract, right on the edge of the falls. The guides have to hold your feet so you don't get pulled over the falls, but it's an extraordinary feeling.
(Devil's Pool, Victoria Falls)
Johnathon:
I am a sucker for a waterfall since my parents took me to Niagara Falls when I was 7. I remember the awesome power of the water and the deafening noise, and I marveled at the sheer force of nature that it was. Victoria Falls takes that experience to another level. It may not be the highest, but it is amongst the widest, and really isn't it all about the girth, not the length?
Eric:
My husband and I had done helicopters over Hawaii and the Grand Canyon and the Great Barrier Reef, so while it was super cool to see these massive falls from the air, it was the herds of migrating buffalo and wildebeest and elephants that really made this particularly helicopter ride so memorable.
I also personally loved the Victoria Falls hotel. It is the ultimate Out of Africa moment – it's this grand, colonial hotel, with all kinds of wildlife living on the property (capuchin monkeys, warthogs, etc). The rooms have these big windows that open, but they urge you to be sure and close them when you're not in the room, as the monkeys have been known to sneak in and go through your things. And having a monkey steal all your Andrew Christian underwear, while amusing, can be problematic when he's wearing them on his head
CAPE TOWN:
Jeff:
I have great memories of wandering through the Victoria and Alfred waterfront in Cape Town with views of the sea and Table Mountain surrounding me on all sides.
(The V&A, Cape Town)
Eric:
I second Jeff. If you're staying in Cape Town, you have to stay on the waterfront. The views are absolutely spectacular, and the outdoor mall – known as the V&A (for Victoria & Albert) – which is adjacent to the luxury hotels on the waterfront – is a sensational way to spend an evening. We were there in November, and it was decorated for Christmas, with a massive tree and lights all across the waterfront. Sitting outside at one of the many restaurants, with this view of sea and mountains and Christmas decorations is so memorable.
I also loved the wine country. There are two major wine regions _ Franschhoek and Stellenbosch – outside Cape Town, and they're spectacular. We visited some of the most beautiful winery properties I've ever been to anywhere in the world for both wine and olive oil tastings. We had a gourmet picnic lunch at this one called Warwick that was just stupidly fabulous.
One night, we went to the Gold Restaurant for a dinner, which also involved some audience participation. We were given drums, and we drummed along to African songs. Then, they asked for volunteers to get up and do an African dance with some of the staff. Our friend David, who has never known the meaning of the word "embarrassment", threw himself into it with complete abandon.
(That's David in the white pants)
Johnathon:
I loved seeing the penguin colony at Boulders Beach, on the Cape Peninsula (about 90 minutes outside Cape Town) – partly because I had never associated penguins with Africa, and the fact that they are so damn cute. The drive through the Cape Peninsula is thrilling, and then to suddenly be up close and personal with these little guys is such an amazing feeling. There are walkways on the beach for the tourists to watch the penguins, and they'll waddle right up so you're just a foot or two away from them.
(Boulders Beach, Cape of Good Hope)
And visiting Robben Island (a short ferry ride from a pier in Cape Town) – where Nelson Mandela was held prisoner for 27 years – gave me a heartbreaking reality into his suffering and how he changed a nation, being awarded the Nobel Peace Prize, elected President and overturning apartheid.
Eric:
If you have a chance to visit this incredible country, and have the means to do it the Brand g 5-star way, with its insane array of experiences, it will be one of the most memorable trips of your life. Brand g has two late 2021 departures with extremely limited availability remaining. To book visit HERE