This is another installment in our series about our staff's favorite experiences on a given trip.
Some people think of India and envision nothing but poverty and overcrowding. And they're both mistaken, and missing out. Granted, you want to visit India with a 5-star tour company, because it can be overwhelming. But the array of amazing moments you'll have if you do so is the reason India is so highly regarded by our guests who've traveled there.
Jeff: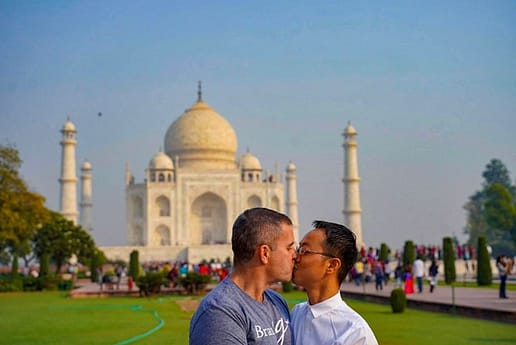 What I love about our trip to India echoes much of what I love about our trip to Vietnam and Cambodia. You step into a culture and way of life that is so different than everything we know in the western world. I am particularly fascinated by the Hindu religion and the number of gods they worship, my favorite of them being Ganesha, the remover of obstacles.
THE TAJ MAHAL
Jeff:
The first time I visited the Taj Mahal is an experience I'll never forget, and it still delivers each time I have the pleasure of seeing it. The Taj is a man-made marvel that actually exceeded my expectations. It is even more impressive in person that in the best of photographs. I've offered to build a smaller-scale replica for my husband Troy, but he keeps pointing out that pesky part about his having to die.
Johnathon:
I developed a love for India its culture and peoples since first visiting in the early 90's. My relationship with the continent was mainly work-based and focused on city life, shopping, and like everyone, "doing the Taj". By that phrase I do not want to minimize the impact of or do injustice to this stunning monumentl. I simply use the phrase as it attracts up to 4 million visitors a year and is one of the world's most iconic buildings. I have to say that every time I visit, it still takes my breath away, and I feel the love that the mausoleum represents.
JAIPUR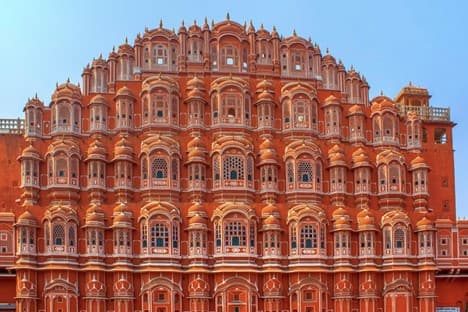 (Hawa Mahal Palace)
Johnathon:
A new experience for me was our visit to Jaipur – a stunning city full of amazing architecture, as well as home to one of the world's finest hotels, The Rambagh Palace. Built in 1835, this former palace is steeped in history and simply magical to stay in. The service is beyond anything I have experienced, and they have an amazing range of whiskeys on offer as well as free roaming peacocks. You'll feel like a queen. Bring a tiara.
Jeff:
I second that. The Rambagh Palace is a destination unto itself. Once the residence of the Maharaja Sawai Man Singh II, it truly is a palace befitting a Maharaja, and without question one of the most beautiful hotels I've ever stayed in. I feel so grand there, and have tried asking the staff to carry me around on a palanquin, but I guess they have to draw the line somewhere. We have quite a few extremely well-traveled guests, and it tops the list for many of them, as well.
(Rambagh Palace Hotel)
VARANASI
Johnathon:
I still have the tea plantations on my list of must do's, and apart from that I thought I had pretty much seen what I wanted to see of the continent. This changed completely when I visited Varanasi with Brand g. Here, I was able to sense the deep spirituality of the people and to feel a real part of that. Floating in a small craft on the Ganges, watching the priests at Dashashwamedh Ghat perform the aarti, a Hindu worship ritual, while devotees help put thousands of candles or floating lamps on the river in dedication to Lord Shiva, is simply fulfilment at its best. Being witness to grieving families at the funeral ceremonies at the cremation ghats from a boat floating in the river is a very emotional experience. Varanasi completely enriched my view of India.
THE GANGES
Jeff:
One of the things I love most about our India trips is the river cruise on the Ganges. The ship is done in 5-star colonial style, with service that exceeds even the décor. The crew is some of the most attentive and genuinely kind people I've ever met. And it's not "kind in service of a tip" kind. They're just innately loving and gracious people. As one example, I witnessed one of the nice young men tying one of our guest's shoelaces so he wouldn't trip on them.
THE FOOD
Johnathon:
I am no size zero, and I love my food – especially Indian cuisine. Scotland (my home) has a huge South Asian culinary influence, so curry is no stranger to us Scots. That said, much of the food we see in Europe has been adapted for the western pallet, and indeed some of that food style is now served in India. But I simply love the food, and am in a state of food heaven when eating my favorite Murg Makhani with a huge keema nan and bhajee's on the side. But I am good to go with anything from Korma to Kahari, Rogan Josh to Raita, and Balti to Bhuna. (Stand down, Jenny Craig.) If you don't know what any of these foods are, all the more reason to go!
Eric:
No matter whether you go with Brand g or another company, we definitely recommend that you take a 5-star tour. Prices are quite reasonable. And being part of a deluxe tour group ensures you'll have both the staff and the accommodations that can smooth out any rough edges and provide for a welcome and luxurious respite.
Brand g will be returning to India in the fall of 2022! Check it out here.