This is another installment in our series about our staff's favorite experiences on a given trip.
Much of what many people know of Vietnam and Cambodia comes from old footage of the Vietnam war. But these countries are full of history, totally unique cultures and some of the most welcoming people on earth. There's a reason it's co-owner Jeff's favorite trip of all the vacations Brand g offers!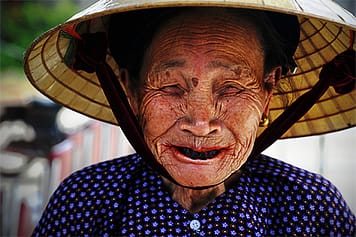 THE PEOPLE
Jeff:
When people ask why this is my favorite trip, my answer is always about how much I love the people in both Vietnam and Cambodia, but especially Cambodia. They truly are some of the most hospitable, warm, and friendly people I've met anywhere on the planet. This trip gives me so much perspective on my own life, and what I think makes me happy versus what really makes me happy. During this trip, we encounter so many people who have so few material possessions and little monetary wealth yet seem so content and satisfied. Maybe it's the Buddhist culture, or just that they are much more focused on family and friends and their fellow man in general than on amassing wealth and possessions. Whatever the case, they've definitely got something right in my eyes!
THE HISTORY
(Angkor Wat)
Jeff:
When you travel to both countries, you realize that the Vietnam war is an important part of their history, but it is just that – one piece of their recent history. What impressed me the most is that most people have moved on and no longer harbor any resentments towards Americans (outside, perhaps, of the film shown at the Cu Chi Tunnels, where the voiceover continuously refers to the "American Imperialists").
What fascinates me even more is all that happened in Cambodia during the Vietnam War era that I never learned in school or heard much about. The Pol Pot regime had a devastating impact on Cambodia and its people, yet most of us were not aware of the extent of the devastation. It only leaves me further impressed at the resilience of the human spirit and how the country and people of Cambodia have recovered. Mind you, there is still a way to go!
(Ta Prohm, Cambodia)
SIEM REAP, CAMBODIA
Johnathon:
Vietnam and Cambodia are countries that, for me, deliver in bucket loads. Siem Reap is simply a joy to experience. It is like a small, intimate Bangkok, with the world's friendliest people. It's a great way to start the trip. The history and architectural beauty of the ruins at Angkor Wat, Angkor Thom, and Ta Prohm (which has long since been overtaken by the jungle and looks like something out of a Harry Potter movie) are stunning. People think of ruins in Europe, yet Asia has spectacular ones that rival anything in ancient Greece, and Angkor Wat is a world-class example.
(Cu Chi Tunnels)
THE CU CHI TUNNELS, VIETNAM
Eric:
I was particularly moved by our visit to Cu Chi, a rural area of Vietnam where, during the war, the people lived underground (since bombs and napalm were falling all around them). They utilized caves and such and built tunnels into them. It was primitive, dark, and must have been hell for these people who were just trying to stay alive. You can go down into the tunnels, of course, and they also have exhibits of the horrifying camouflaged traps they used to kill and main U.S. soldiers in an effort to keep them from finding the tunnels. It's a very visceral experience, and almost shocking to look at this peaceful countryside and imagine what was happening 50 years ago.
(Ha Long Bay)
HA LONG BAY
Johnathon:
Halong Bay is one of those places that you see on travel programs and in luxury travel magazines and I always thought… I bet it is not really like that. Well, boy, was I wrong. It is exactly like that. I was simply amazed by the emerald waters and the towering cliff towers of limestone and green vegetation. It is quite simply stunning, and the best way to see it is on a luxury 'junk' boat with its very own piano bar. What more can I say?
Eric:
I agree – for me, it's one of the highlights of all of Asia. There are about 2,000 limestone islets that rise up from the water, and sailing among them on a junk is just a WOW. Make sure you have a lot of storage space on your phone – you'll take about 1.2 million photos, especially because as you move through the bay, the light changes and makes everything look different. Amazing.
THE SHIP
Johnathon:
Upon boarding the Mekong Jewel river ship, I was transported into the lap of luxury (a lap I particularly enjoy). Every detail is taken care of and no want is too much, although they did seem to draw the line at my request to visit the crew quarters at midnight. The staff are some of the best I have ever encountered on any ship. They literally move heaven and earth to make everyone happy, and their happiness as they do it is infectious. I literally felt like part of the crew's family.
THE FOOD
(Mekong River)
THE MEKONG
Jeff:
I love our visits to the small villages as we do a river cruise down the Mekong. You step into another world, so completely different than ours – it's like the Land That Time Forgot. Here, you see people living their daily lives – operating small rice farms and the like – utilizing primitive methods long since abandoned in more developed countries. The people are so proud to show you what they do, and they invite us into their homes, their schools, their markets and their traditions. You can't come away from these visits without a sense of pride in these people and gratitude for how easy our American lives are.
Eric:
If these recommendations have whet your appetite and you'd like to learn more about Brand g's Vietnam and Cambodia river cruise and land tour vacations for 2022, check them out here.