Lucky Brand g guests traveling on one of our upcoming river cruises will be entertained by the comic perfection that is Christina Bianco, the theater and cabaret dynamo who's described by Time Out New York as "a one woman orchestra" and "a comic firecracker with a pyrotechnic voice who drives the audience wild."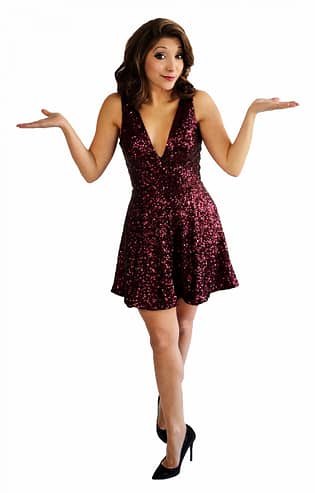 From stage to screen, Christina Bianco's singular voice and comedic charm have brought audiences around the world to their feet. Christina captured international acclaim as a YouTube sensation with her 'diva' impression videos, gaining over 25 million views. Dubbed "the girl of a thousand voices", Christina has performed on major television programs such as The Ellen Degeneres Show and The Today Show in the US, and The Paul O'Grady Show and This Morning in the UK.
A Two-Time Drama Desk Award nominee, Christina made her West End debut starring in The Menier Chocolate Factory's hailed production of Forbidden Broadway at the Vaudeville Theatre in London. New York credits include Forbidden Broadway; Goes To Rehab (Drama Desk Award Nomination), the one-woman, multi-character comedy Application Pending (Drama Desk Award Nomination), The Marvelous Wonderettes, and Newsical the Musical. Other credits include: Hello Dolly (Minnie Fay/Indianapolis Symphony), Rent (Maureen/Weston Playhouse), Beehive (Riverside Theatre) and Joseph And The Amazing Technicolor Dreamcoat (Narrator/Drury Lane Theatre).
Most recently, Christina played the iconic role of Fanny Brice at the historic Theatre Marigny's celebrated production of Funny Girl in Paris, earning unanimous rave reviews.
A lot has been written about this amazing performer, but at Brand g, we feel it is important to delve deep. So lets find out what we learned from peering through Christina's porthole…..
Christina, is this the first time someone has peered into your porthole?
I don't believe that's any of your business!! Oh – wait…I see.
Well, I'd have to say no because I'm fairly open about sharing my life and travels on social media. But I'm honored that it's you peering in this time!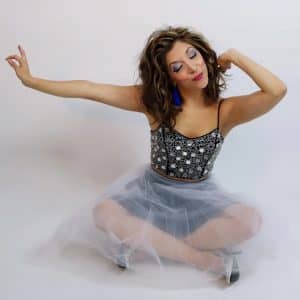 What's your favorite part of your job?
I love singing and acting in general, but it's just not as thrilling and fulfilling if you're not performing for a live audience. I love the interaction with a crowd. Whether I'm breaking the fourth wall talking to them in a concert setting, or playing a role in a play, I love that the audience's energy affects and changes my performance. No matter how many times I repeat the same material, it's becomes a new experience because it's shared.
What was your most embarrassing performance moment?
Ohhh that's a tough one to choose. This was more ridiculous than embarrassing but it's a memory that haunts me. I was in the Off-Broadway topical review Newsical. The show lampooned the news and pop culture, and for this sketch I was playing Kim Kardashian. I was directed to enter singing, while brushing my very long wig. The wig, however, was in very poor shape. I have no idea how it became so tangled but I put the brush through my hair once – and there it stuck. I tried to take it out but there was NO movement. So I tried to keep singing and look calm as I attempted to detangle the tiny brush from the mass of matted wig. Everyone was staring at me like I was nuts, unsure if this was part of the show. Eventually I just dropped the brush and let it hang while I pranced around the stage. The audience was in stiches, but it was obviously distracting for the wrong reasons. Finally, our very timid accompanist hollered, 'Hey Kim' and waved me over to the piano. He stopped playing, told me to hold the wig tightly on head – and after a few big and PAINFUL yanks with both hands, he eventually tore the brush out of my wig. The wig and brush got a huge ovation – but I was mortified!
Last year you stared in the Paris premiere of the Broadway musical Funny Girl as Fanny Brice at the Théâtre Marigny. What was it like to follow in the footsteps of Barbra Streisand?
More than anything else, it was an incredible honor.  I mean, who wouldn't want to play one of the most iconic roles in musical theatre history? And in a production of that scale! To me, the role of Fanny is unmatched in musical theatre. You get the gift of playing her journey over a 10 year span and to emotionally cover all of that growth, comedy and tragedy. Then you get to interpret those iconic songs! AND you get to dance (well, at least in our production)!
But yes, part of me was completely terrified because no matter what I did, I knew people would be comparing me to Streisand. And not only am I one of those hard core New Yorkers, who grew up listening to Barbra Streisand and emulating her – I'm known for impersonating her! So I had to be especially careful to make this interpretation of Fanny absolutely new and absolutely my own. So as hard as it was, I didn't go back and watch the movie of Funny Girl. I only read the musical script – which is very different – and I didn't listen to the cast album. I only listened to an accompanist playing the music for me. I distanced myself from Streisand and I studied as much of the real Fanny Brice as I could. I found the many similarities between us and really played with that.
Thankfully, audiences and reviewers overwhelmingly loved the production and my performance. I'm eternally grateful for that incredible experience and for how Paris embraced me. I can safely say that it has changed me as a person and a performer forever.
[wonderplugin_video iframe="https://www.youtube.com/watch?v=jlB04pn27eo" lightbox=0 lightboxsize=1 lightboxwidth=960 lightboxheight=540 autoopen=0 autoopendelay=0 autoclose=0 lightboxtitle="" lightboxgroup="" lightboxshownavigation=0 showimage="" lightboxoptions="" videowidth=600 videoheight=400 keepaspectratio=1 autoplay=0 loop=0 videocss="position:relative;display:block;background-color:#000;overflow:hidden;max-width:100%;margin:0 auto;" playbutton="https://mlbsoug5qqqt.i.optimole.com/cb:8iWY.44c94/w:auto/h:auto/q:mauto/f:best/https://brandgvacations.com/wp-content/plugins/wonderplugin-video-embed/engine/playvideo-64-64-0.png"]l
You are very well traveled. Do you have a favorite travel destination?
In the past I've always said London, but now that I've worked there so many times, I'll branch out.
My favorites at the moment would be Paris (of course), Barcelona and The Cotswolds (I know that's still in the UK but at least I didn't' say London again!)
What's your preference: Broadway or The West End?
To me, good theatre is good theatre, no matter where. Each location has it's legacy. As someone who has been fortunate enough to perform on Broadway, The West End and beyond, I don't find any particular location more or less professional or one audience more or less reserved. I did originally assume that the British would be more proper and quiet but that's not been my experience at all! I think it's just that the British are a little more particular about who they reserve their full cheers for – so when they really want to – watch out! They had to kick someone out of my concert in Cardiff!
What's your favorite song/music/character/person to perform? 
Impossible questions! I have far too many favorites, so I'll just give you the first that come to mind right now!  Song – Nancy Wilson singing Midnight Sun. Music – I could listen to Django Reinhardt all day. Character – Dot in Sunday In The Park with George. Diva to Impersonate – Celine Dion.
Who/what was most influential in your career?
My parents were technically the most influential because they exposed me to ALL of these artists who've inspired me and the performances that had the most impact.
Within that, specifically important in making me the performer I am today are – Bernadette Peters, Barbra Streisand, Judy Garland and Shirley Bassey. Comedic actresses like Carol Burnett, Madaline Khan and Andrea Martin. For impressions, it's Marilyn Michaels, Jane Horrox and Tracey Ullman.  In the cabaret world, to me, there is no more complete performer than Marilyn Maye. And if I had to choose one person who I try to model my concert work on, it's Bette Midler. She can make you snap your fingers and sing along, play a wacky character in a costume, make you cry singing a power ballad and make you laugh doing some comedic dialogue – all within 10 minutes. That's the sort of dynamic performance I strive for.
Your are a Two-Time Drama Desk Award nominee. Tell us how that feels to be in such an exclusive club…
Thank you for this question. So many people think the only theatre awards that exist in New York theatre are the Tony's. They are indeed the most significant, but there is a lot of professional theatre in NYC that is ineligible for the Tony's due to venue size or contract type. The Drama Desk awards puts NYC shows, whether Off-Broadway or Broadway, in the same categories. So to have been nominated for two means a lot to me. My performance was considered alongside some of the biggest celebrities like Stockard Channing, Sutton Foster and one of my idols Andrea Martin  – as well as incredible performers whose names I know well but you've never heard of. It's a true celebration of New York theatre and while I'm gallivanting around the world performing, that memory and recognition helps keep me grounded in reminding me that my home town will always be New York, New York!
What is the most embarrassing job you ever had?
Well, I'm fortunate in that I've never technically had a 'day job!' Right out of college, I went into the national tour of Dora The Explorer Live. But maybe I should say playing Dora was most embarrassing!  I'm always reluctant to knock it, because it was a highly professional production, I traveled the USA, made great friends and met my husband – but I DID prance around American and a number of national television shows pretending I was a 7-year-old, in orange shorts and a pink T-shirt (and I was 'strapped down' if you catch my drift).
What is your greatest extravagance?
Definitely my Louboutin 'Cinderella' shoes that I bought in Paris as my token from Funny Girl.  I never buy myself expensive things …but … I couldn't help myself! The original, flagship Louboutin was right around the corner from our theatre. I ended up getting a shoe very similar to one I'd seen and drooled over about 7 years earlier. It's clear and shimmery like a fairytale glass slipper. A perfect memory of my magical experience in Paris playing my dream role.
 What one thing would you want people to know about you?
I can cook and bake a full Italian feast in a NYC studio apartment kitchen that is the size of most people's midsize cars. That takes a special skill and commitment!
Want to know more?
Christina is over the moon about starring in a big UK theatre tour in 2021, but is still sworn to secrecy so you'll have to wait for that official announcement soon!
Follow her amazing  live stream concerts on her Facebook page 
If you cannot wait to see Christina in person, you can listen to her live album Life of The Party, which was recorded in London in 2018, as well as other music (you can also watch her videos and see where she is performing) on her website.