Robbie is known to me as the man who reduced me to tears whilst sailing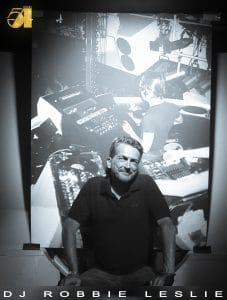 through the Panama Canal with RSVP Cruises. He was not telling me off but delivering one of the most iconic T-Dance DJ sets I have ever recalled.  The crowd were so ecstatic they refused to let him stop playing, shouting his name and bowing in front of him. I was humbled to tears not only by his musical genius but the unparalleled setting. Let's be honest thought, I'm not saying the cocktails did not play a part.
Robbie will be known to most of you as one of the first generation of DJ's. From starting his career on Fire Island at the Sandpiper (now the Pavilion) in 1975, he subsequently moved on to become, some may say, the Father of  DJ's. He has played practically every iconic venue worldwide, including Studio 54, Roxy and The Saint in the Big Apple, to Heaven in London, as well as being the resident DJ for RSVP Cruises. Simply put, Robbie was on the Circuit before the Circuit was invented.
Having met Robbie over 25 years ago, I have always wanted to probe and peer into his porthole, so lets get to it…
 What does it feel like to be a DJ legend?
Well, I've never seen myself as a legend and I don't really set great store by the title. The word is so freely and casually bandied about these days that it has devalued to meaninglessness. The yoghurt I eat and the oil I put in my car call themselves "legendary" to give you an idea of the depreciation of the term. I do know that I've been enormously successful and quite lucky in my chosen career, but I think you know that I'm no diva, no prima donna.  In fact, I really see myself more as a public servant – bringing happiness and resurrecting joyful memories with my music is an especially essential task… these days particularly. What is far more important to me is that I'm supremely happy in my life and my work – irrespective of so-called legendary status.
What's the favorite part of your job?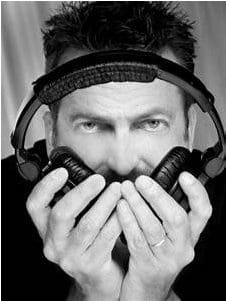 I think most DJs will agree that the greatest high you can experience in the DJ booth is watching the immediate response that comes from your music selections and mixing. It's a thrill when your dancefloor is really enthralled by your work and moving as one with a really happy vibe in the air.   Of course, it's a huge responsibility.  Everything of true value does come with intrinsic responsibility.
What was your most embarrassing performance moment?
I'm pretty good at avoiding catastrophes when in the booth and I've never skipped a record or picked up a hot tone-arm. I've never passed out or been caught doing something I oughtn't. I guess the worst thing is playing a record that is totally wrong for the moment and fully clearing the floor.  That can be pretty humiliating, because now everybody's on the sidelines staring at you… sometimes with daggers! Also, a few times we've had power failures and the whole sound and light systems have gone down – it can take a minute or two for everything to go back online and get the music going again, and that's an eternity!
What is your favorite cruise destination?
Oh, so many! I've only been into the Panama Canal once before, so I'm really looking forward to that! My Thailand cruise was amazing – the geography and culture is so exotic – and I really love anywhere in the Greek Islands.  Also, I'm a big fan of "Sea Days" where there's no destination at all… just open sea and the occasional island in the distance… so relaxing!  Though we've done Alaska many times, I never tire of it. I can just stand on the decks and take in the amazing, majestic scenery for hours and hours… and if it's inclement I can have a nice cup of tea indoors near a good picture window and watch the vistas glide by!
Can you give us a favorite track from the 70's, 80's, 90's through to the 20's?
"MacArthur Park Suite"-Donna Summer and all the marvelous Philly Sound records from the Seventies.
"Hold On To My Love"-Jimmy Ruffin and "Never Can Say Goodbye"-Communards from the Eighties.
"How Can I Love You More" and everything else by M People, and "Unbreak My Heart"-Toni Braxton for the Nineties
"Diamonds"-Rihanna and "Born This Way"-Lady Gaga from the Two Thousands.
Who was most influential in your career?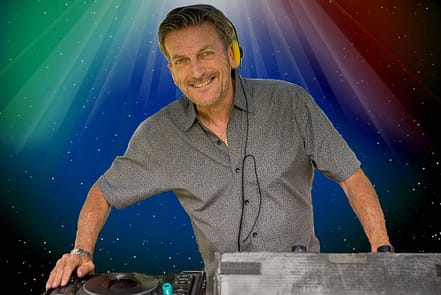 Three people.  Bobby Viteritti who taught me a lot about the business and the art of mixing. Alan Dodd who taught me about style, and Thom Moulton who taught me about all the wonderful early disco classics.
What is your favorite venue and why? 
It was called 12West and it was my first DJ gig in Manhattan. The space was large and minimalistic. The sound system was impeccable. The lighting, effective but not bombastic. Most importantly, the crowd that regularly went there was really into dancing all night and was very discriminating about the music they loved, so to win over that crowd was a huge accomplishment.
What is your most memorable gig and why?
It would have to be the closing party of The Saint in New York City. It was a forty-hour party with ten DJs and I was selected to be the last person to spin – to actually play the last set in that amazing planetarium-club!  The place was absolutely packed. People wept at the end.  Marlena Shaw sang "Touch Me In The Morning" right after my performance. It was one for the ages. Unforgettable.
Who is the most famous person who has danced to your music?
Golly… everybody.  Since I worked at Studio 54 for years, all kinds of famous people were on my dancefloor – Christina Onasis, Liza, Halston, Rod Stewart, Truman Capote, Marissa Berenson, Tommy Tune, Diane von Furstenberg, Cher, Michael Jackson, literally everybody!
What is the most embarrassing job you ever had?
I played a tea dance in a sex club once, so half the people were dancing naked… I'm thinking to myself, "This is so surreal!" I also played a nudist birthday party a few years ago.  I was the only person with clothes on! It was hilarious and quite an eyeful! Over the years, I've done a few ill-conceived or poorly promoted events when nobody showed up. That's always a bummer. The ideas always sound good on paper and in theory, but they don't pan out. I always pity the promoters and producers because they can lose a fortune in just one evening.
What would you be if you were not a DJ?
Possibly a restauranteur or a teacher. I think creating a great eating environment, menus, and creatively tailored service is a wonderful challenge.  Teaching would be so rewarding; however, I question if I could control a classroom of unruly students.  Maybe college-age students would be a better fit.
What is your greatest extravagance?
No doubt:  My 1967 Cadillac DeVille Convertible. It's very rewarding and brings me great pleasure, but it's quite an expense to keep a fifty-four-year-old car in good condition. It takes money, great mechanics, money, knowing the right restoration craftsmen, money, a gift for tracking down rare parts, money, and more money. LOL
What one thing would you want people to know about you?
Good question, because I think we all want to share something about ourselves and be better understood. I think I would have to say that despite my "quasi-celebrity" status, and the fact that I'm often at the helm of enormous parties, I'm generally very content in small groups and all by myself. I love my "alone time" in Maine each year. I never see myself as a big shot and prefer to be treated as an average guy who just happens to travel a lot and have a peculiar profession.
Tell us about your love affair with Mr. Stone?
I adopted Greystone from a wonderful no-kill shelter called Big Dog Ranch Rescue in Loxahatchee, Florida. It's an amazing place – very new and clean and beautifully run.  It's the pet project of a wealthy Palm Beach benefactress. They bring dogs in from China and high-kill shelters around the country. And they rescued a lot of dogs from the Bahamas after the last hurricane. Greystone was found tied to their main gate on Easter morning in 2019. I adopted him four months later. He didn't know how to climb stairs, was wary of his reflection, and needed lots of love. He's a wonderful companion, is very good off-leash, and loves to run. I had his DNA checked and he's mostly Black Lab, with about a quarter pointer and an eighth Greyhound. There are tons of pickies of him on my Facebook timeline.
If your like me and love to dance, why not sail with Brand g Vacations in 2021 and see Robbie perform live in November on the Panama Canal Royal Clipper Sailing.
If you cannot wait to hear those tunes spun by Robbie, you can download his music HERE