For those of you who have cruised with us before, you may have found yourself mesmerized, terrified, harassed, and running from, but mostly crying with laughter at Brand g Signature Entertainer, the moose in the hoose, Canada's own, Miss Conception – Female Delusionist Extraordinaire.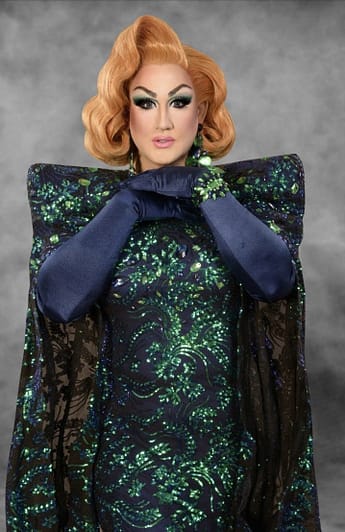 With a career spanning over twenty years, Kevin Levesque – as Miss Conception – has delighted audiences around the world. And when not rubbing shoulders with A -List stars like Jennifer Holiday or headlining seasonal residencies in spots like P-Town and Puerto Vallarta, she can be seen entertaining on many Brand g cruises. Her shows are a whirlwind of amazing costume changes, fabulous characters, hysterical one liners and more than a few high kicks. She truly is one of the funniest artists to tread the Brand g boards – or decks, in this case. As if all that wasn't enough, she/he is one of the nicest people in showbiz and a major supporter of charitable causes in his native Toronto. Having known Miss Conception for many years, I have always wanted to peer into her porthole (though never immediately after a show, as it is a bit sweaty) to probe and question her.
So, here goes!
What's your favorite part of your job?
Darling, of course the open bar, and belting out a bunch of sour notes for the boozy people! No, it's all the wonderful people I can make laugh and smile and create special memories with. I do love hosting my onboard game show, Mess in a Dress. I make sure I have a couple trays of shots to get the contestants in the mood, and OMG, do those guys and gals get messy. And some nearly get creative! Fortunately, none of them have to date turned professional.
What was your most embarrassing performance moment?
Well, I guess it would be passing gas underneath my 8 layers of costumes. It struck me like the Titanic. Please note that when rushing for that front row seat! Though the Brand g staff may say they laughed most when my HUGE wig got caught up in the ceiling lights. Go big or go home, I say.
What is your favorite travel destination?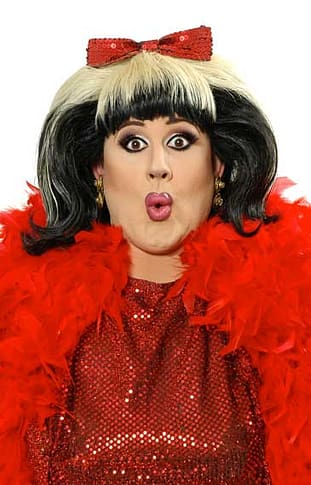 I think it has to be Salzburg, Austria, where I performed numbers from The Sound of Music on the iconic steps of the Mirabell Gardens, dressed as Maria Von Trapp. It was going great – the tourists didn't know what hit them – until I fell down the stairs with a stuffed goat in my hand.
What's your favorite song/music/character to perform?
I love doing songs from The Rocky Horror Picture show, 'cause everyone loves a SWEET TRANSVESTITE. And who doesn't want Canadian bacon on the slab?
Who was most influential in your career?
My parents. When I was 12 years old, they allowed me to be Belle from Beauty and the Beast when performing in the living room. I remember my mother saying " Why couldn't your sister be the girl, Kev?" and my gay uncle Arthur saying, " 'Cause he makes a better one".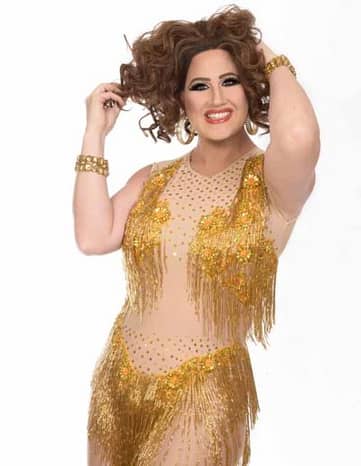 Where in the world would you like live if you moved?
I'd love to Live in Puerto Vallarta, Mexico one day, cause I love a Margarita, and I love the hot sun and humid weather to keep my skin dewy fresh. And the hot Latin boys in speedos on the beach don't hurt. Did I mention Margaritas?
What do you most love about Brand g guests?
I love that it's a diverse group and they really appreciate live entertainment. After a bunch of drinks, they're singing along to show tunes like Carol Channing bellowing from the grave.
What is the most embarrassing job you ever had?
I've been very blessed to have picked my jobs wisely – from a cook to aerobics instructor, waiter, manager of a restaurant and a fabulous man in a dress. My book, Memoirs of a Rent Boy will be out soon in paperback…
What would you be if you could be anything?
Hmmmmm. I'd love to be a Marine biologist, where I can swim freely with the Little Mermaid and tell her, " Girl, it's better down here where it's wetter". Esther Williams, eat your heart out.
What is your greatest extravagance?
Botox. This queen has to look fresh to be on stage and not age, so those new drag queens know who the Canadian's Snowbird Queen is!
What one thing would you want people to know about you?
I'm not going anywhere. I will always be Miss Conception and will entertain you 'til I'm 70 years old, even with my walker.
If you want to be like us and peer into Miss Conception's porthole in more depth, why not sail with Brand g Vacations in 2021 and see her perform live in August on our Prague and Danube River Cruise, in September on our Bucharest to Budapest River Cruise, or in November on the Panama Canal Royal Clipper Sailing.
Miss Conception continues her winter Puerto Vallarta residency this 2021 winter season at the Palm Cabaret and Bar.