If you're fortunate, you may have seen Brand g's Signature Entertainers, the amazingly talented Branden and James. They are not only two of the nicest people in show business, but, since 2015, the cello and vocal duo have become a brand name in classical crossover music – they defy odds by reinventing musical rules. Aside from their talent, this married duo are amazing advocates for the LGBT+ community. Did I mention that they're also easy on the eyes? This is you chance to peer into their portholes and find out everything you dared not ask them.
So, let's begin!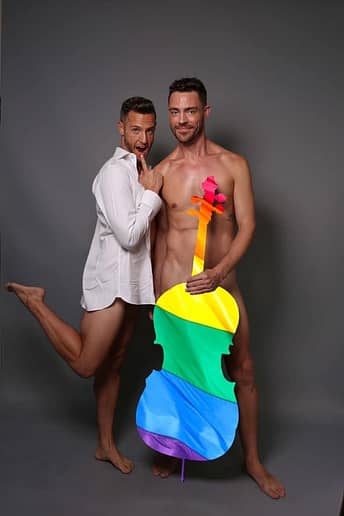 What's your favorite part of your job?
James: I love traveling – seeing new places and meeting new people. And it's a great bonus that I get to share it all with the love of my life. That would be Branden!
Branden: The satisfaction that comes with moving people to tears. I'm still working on the laughter part, but I'm really good at making people cry!
What was your most embarrassing performance moment?
James:, I was playing a solo show with a band on a cruise ship. I was rocking out the theme from Game of Thrones and accidentally launched my bow into the front row of the audience. We were ALL very surprised! Always the professional, l keep two bows on hand when performing, the heir and the spare. I grabbed my second bow from side stage and continued as best I could. The show must go on!
Branden: I can't remember, to be honest. Sometimes I forget words, or occasionally have a bad night vocally. But I don't really get embarrassed about it. Life works the same way: we have good days and bad days. With that said, I am a nervous wreck if I ever feel unprepared for something.
What is your favorite travel destination?
James: I love the Mediterranean – Greece, Italy, Spain. The food, the wine, the weather, the language and culture… the beautiful people! What's not to love??
Branden: I was fortunate enough to spend a lot of time working in Europe in my twenties and thirties. I've seen nearly all of it, and the continent will always have a special place in my heart. But I would say Cape Town, South Africa, and Bali, Indonesia would be my favorite travel destinations.
What's your favorite song or piece of music to perform?
James: I never get tired of performing Leonard Cohen's Hallelujah – I think it's one of the most well-crafted songs EVER!
Branden: I love singing anything in Italian or Spanish. I feel more alive than ever when I'm singing in these languages.
Who was most influential in your career?
James: My piano teacher, Melissa, who was my teacher for nearly a decade. I loved her.
Branden: My first voice teacher in New York named Michael Paul. He took me under his wing, gave me some cash to buy furniture for my first apartment in NYC, and allowed me to study with him on scholarship. I was a shy, young person with not much confidence, and Michael made me believe in my own talent.
Where in the world would you like to live if you moved?
James: Spain. I love the culture and the people.
Branden: Puerto Vallarta, Mexico. I love that place, and it's fantastic to perform there.
What do you most love about Brand g guests?
James: They're always fun, they're interesting people, and they come from all over. There's always great conversations to be had and lots of laughs.
Branden: Brand g guests are all incredibly cultured, friendly and genuine. I've had some of the most fascinating conversations on Brand g vacations.
What is the most embarrassing/memorable job you ever had?
James: While still at college, I was hired to be a bartender for a gay man's birthday party. In order to generate more tips, I wore only a jockstrap and, at the end of the evening, performed the Bach G major prelude, naked, while sitting on the birthday boy's lap. it was definitely one of my most memorable performances, at least for me!
Branden: I showed up for a gig one time in San Francisco, and the buyer forgot to bring a piano and amplification. I had to perform a solo concert a capella. It was dreadful.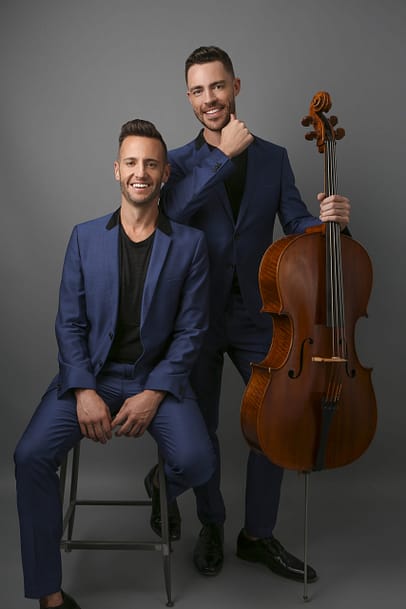 What would you be if you could be anything?
James: If I couldn't be a musician or music teacher, I would like to be a landscape designer/gardener.
Branden: If I wasn't a singer, I would be an artist manager. I love developing and nurturing young artists.
What is your greatest extravagance?
James: It used to be clothes, but now I think it's experiences – even just simple ones like trying out a new restaurant with friends.
Branden: Spending money on great food and wine. I love to cook and throw dinner parties, and to share with others.
What's one thing you would want people to know about you?
James: That I really, really like gifts. Of all sorts.
Branden: I am incredibly shy, and more of a thinker than a talker. To a fault, I always have big ideas running through my head. It makes it hard to socialize at times – but a little Dutch courage doesn't hurt!
What do you love most about each other?
James: Apart from the fact that he's very handsome, I love his heart. Branden is such a kind and loving person – and I am constantly in awe of his generous spirit, even when it's inconvenient or when he doesn't necessarily have much to offer. He is always very thoughtful.
Branden: James has made me the best version of myself. He is ethical and honest and thoughtful. He is respected by all who love and adore him, and has great strength in character. Not to mention, he is devastatingly handsome.
If you need to get a bit more of this musical power couple, Branden and James will play in Santa Fe, New Mexico from October 12-November 1st. And the boys are very proud to have released their their first full-length album, Chasing Dreams, which has become a critical darling. It can be purchased or streamed from their website
Branden's memoir, Lyrics Of My Life, distributed by Simon and Schuster, chronicles his story of growing up gay in an evangelical household, contracting and living with HIV, and his time on America's Got Talent. Branden hopes that it will be a roadmap for other young people who are struggling with their own sexuality and chronic medical issues. It can be ordered by clicking HERE.
Branden and James will be performing on Paris, Normandy & the Seine River Cruise in May 2021. For more information and to book visit Brand g Vacations