When you hear the term Queen of the Skies, most of you probably think of Brand g cruise director Maissie DuBois, and rightfully so. However, the Boeing 747 airliner became the true queen when it changed worldwide travel for billions of people. (Maissie disputes this fact, having changed the inflight experience for any number of travelers in countless airplane lavatories, but we'll compare statistics another time.)
In the 1950's and 60's, air travel was, of course, mainly for the rich and famous – thus the origin of the term, the "jet set". Then, in 1970, the 747 was born, and, for the first time, intercontinental travel became a more affordable option for the masses.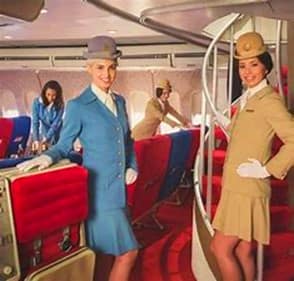 The 747 was nicknamed the world's first "jumbo jet" and became the plane for Air Force One (there are actually two identical planes) and remains so to this day. These highly customized, super secretive birds are the subject of constant speculation and intrigue and are the most famous global symbol of the Boeing 747.
Surprisingly for a big girl, the Boeing 747 remains the fastest commercial airplane, with a top speed of just over 650MPH, and it is only fitting that on its 50th anniversary in 2020, it set a transatlantic flight record between New York and London, making it in under 5 hours!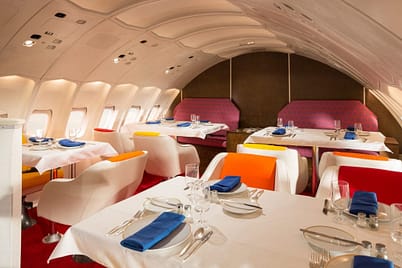 While her upper deck is as wide as a Boeing 737, she was originally designed with two full length decks like today's Airbus A380; but because the plane couldn't be evacuated in the mandatory 90 seconds, the full second floor was scrapped. (Evacuation routines have since become much quicker, thus the inception of the A380.)
The plane once broke a world record by carrying 1,088 people on a single flight, when an El Al 747 helped to evacuate Ethiopian Jews from Ethiopia. Probably not the most pleasant flight, but something tells us no one was complaining.
Through the dowdy 80's and early 90's, the Queen began many facelifts and reinventions (much like Maissie DuBois) and began to become the glamour girl of the sky once more. Her adoring public had more disposable income and demanded more luxury, and they got it in abundance in business and first class, as is evidenced by the offerings of airlines like Emirates, Etihad, etc, today: suites with doors, a bathroom with shower, on board massages, etc.
But even if you were flying economy, this jumbo jet was a sensation, since it enabled the middle class to afford the cost of an international flight ticket. Sure, they were crammed eight across (which later became nine, then ten – eventually we suspect they'll just stack passengers like cans of Spam), but they were suddenly able to see the world.
Sadly, the 747 is no longer in production and has been retired from the fleets of many major airlines due to running costs and the fact that more fuel-efficient aircraft are now being produced. But a few international airlines do still fly her on just a few routes – Korean Air, Lufthansa, China Airways, Cathay Pacific, and a couple it might be best to avoid, Russian Airlines and Iraqi Airways.
As of 2030, there's a new girl vying for title of the Queen of the Skies.
United Airlines is the first U.S. airline to sign an aircraft purchase agreement for 15 of Boom's 'Overture' airliners, with an option for 35 more. The 55-passenger (all business class) Overture will be the world's most sustainable supersonic aircraft, which will operate as a net-zero carbon-emissions plane using 100% sustainable aviation fuel. At more than 1,300 MPH, the plane will be able to transport passengers from Los Angeles to London in just over 4 hours. United hopes to begin service in 2030.
(The Boom "Overture")
God bless the original queen, and the potential new one. In aviation, time and technology marches on.
Just ask Maissie DuBois, who still shows up to work at Heathrow in her flight attendant miniskirt, searching for the Pan Am terminal.