NOTE: We have NO financial relationship with any credit card company.
If you don't hold a premium credit card, you probably think they're for insecure boobs who desperately want a status symbol to flash – the credit card version of a Hummer limo.
But the credit card companies have been working hard to lure new customers to these cards by providing a raft of travel benefits that are richer and more encompassing than they have ever been; and if you travel with any frequency, the value proposition for these premium cards can be pretty amazing.
Let's use the Amex Platinum as an example.
Yes, the annual fee is high – $695. But FOR that fee you get: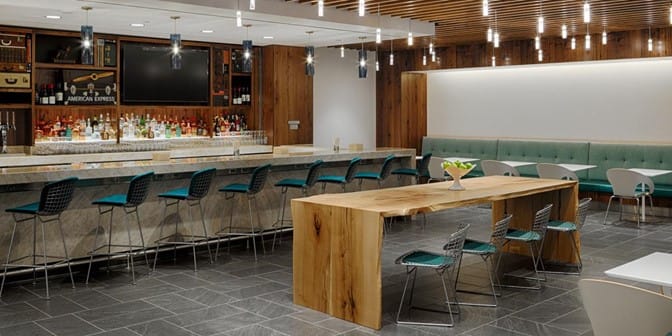 Airline Lounge access
Amex gives you an unlimited Priority Pass membership. Priority Pass provides entrance to a variety of lounges, one or more of which can be found in most airports around the world.
But even better, Amex operates its own domestic chain of lounges (with a handful of international locations) called the Centurion Lounge, which are some of the best lounges out there – cool décor, full premium bar, and some of the best food you'll find in a lounge (their spread is a full meal, not snacks and finger foods). With Priority Pass, you can bring yourself and a guest into each lounge. The Centurion Lounges – which have become so popular that they're often mobbed – just instituted restrictions to resolve this, and you can no longer bring any guests in with you. (If you have a secondary card on the account for your spouse, they can go in on their own card.)
$200 in airline credit
Each year, you select your airline for that year, and $200 of your purchases on that airline (upgrades, baggage fees, seat assignments, onboard food/drinks, etc. – pretty much everything except actual ticket purchases) will be credited back to you automatically.
$200 in Uber credits
Each month, you'll get $15 to use for Uber rides. ($35 in the month of December.) Just make the Platinum card your primary form of payment in the Uber app and it will be automatically applied to your ride(s). Easy peasy.
$240 Digital Entertainment credit
This one was instituted during the pandemic, since people weren't traveling, and has stuck around. Each month, you'll get $20 in credit for things like streaming (we have the Hulu/Disney/ESPN combo package for $19.99, which, with this credit, is completely free), New York Times subscriptions, Audible audiobooks, etc.
$300 Equinox Credit
This one is specific to cities that have Equinox gyms, but if your city has one and you're a fan, this gets you membership fee credit.
$189 Clear credit
I'm a big fan of CLEAR, the airport VIP experience where you scan your boarding pass at a kiosk and a CLEAR rep personally walks you to the front of the TSA pre-check line (which is handy given that often the pre-check line can be as long as the standard line). This credit means that Clear is free each year. (And you can add a spouse on for $60, which isn't credited back, but what a deal.) As I always say, since I fly coach domestically, this is my one moment of feeling like a VIP, even if I may end up sitting next to a screaming toddler.
$155 Wal-Mart Plus credit
The monthly $12.95 fee for Wal-Mart + (which is like Amazon prime, and includes free shipping) is credited back, so it's free. When I'm busy, I will sometimes order some food from Wal-Mart and have it delivered within hours.
$100 TSA Precheck/Global Entry credit
If you don't already have this or are ready to renew (it has to be renewed every 5 years), use the Platinum card to pay the $100 fee, and it will be credited back to your account.
Hotel Elite Status
You'll get mid-tier elite status with Hilton and Marriott, which gets you room upgrades and late check-out (when available), bottles of water, etc. It does not get you lounge access, but at least you won't be in the room next to the boiler. There are individual hotel chain premium credit cards that can get you top tier status, like the Hilton Aspire card, but those come with their own hefty fee (in the case of the Aspire card, it's currently $450).
$100 Saks Fifth Avenue Shopping Credit
Twice a year (in the first half and second half), you'll get a $50 credit for anything you buy at Saks Fifth Avenue. Buy a $50 shirt and get it credited back to you. But a $100 faux-fur muff and get $50 of it back.
5x earning on airfare
If you buy airline tickets, this can be a really quick way to earn a lot of points. A $1,000 ticket will earn you 5,000 points.
Welcome Bonus
This usually hovers around 50,000 or 60,000 points, but can be much higher (at this writing, it's 125,000) which is worth less than it used to be, given the airlines' propensity for devaluing frequent flyer miles, but it can still get you – at 50 or 60k points – a first-class domestic ticket or a couple of coach tickets.
Redeeming Points
Amex's points program is called Membership Rewards, and while you can use those points for things like shopping at Amazon (at 1-cent per point – meh), by far the better redemptions are for travel. You can transfer the points to a variety of airlines (the best option) or hotels (not generally recommended – another meh redemption) instantly.
Card Types
There are several iterations of the personal card (the standard one from Amex, plus several co-branded versions with different investment companies), along with a business version.
https://www.americanexpress.com/us/credit-cards/card/platinum/
There are, of course, numerous other great premium cards:
General Use:
Chase Sapphire Reserve
https://creditcards.chase.com/rewards-credit-cards/sapphire/reserve
Capital One Venture X
https://www.capitalone.com/credit-cards/venture-x/
These get you points that are transferable to a variety of airline and hotel programs. (Outside of transfers to Hyatt, using the points for airlines is typically a better value proposition than hotels.)
Airlines:
These cards grant you and up to two guests free access to that airline's club lounges, plus a free checked bag and higher-priority boarding, among other things. These cards are best if you travel frequently on one airline. My husband and I have the Citi World Executive card for American, and he is added on (at no cost) as a secondary card member, so we can access the lounges whenever we travel, whether we're together or solo.
Citi World Executive (for American flyers)
https://creditcards.aa.com/citi-executive-card-american-airlines-direct/
Delta Reserve (for Delta flyers)
https://www.americanexpress.com/us/credit-cards/card/delta-skymiles-reserve-american-express-card/
United Club Infinite (for United flyers)
https://creditcards.chase.com/travel-credit-cards/united/club-infinite
Hotels:
These cards get you top or elevated status with that hotel chain. The issue is that hotel elite status as a whole has been watered down by people being able to "buy" status in this way. My husband (who earns his Hilton status the old-fashioned way, by staying there on business) and I used to get upgraded to junior suites and full-on suites with Hilton years ago. But because there are tons of people with Diamond status now, we're lucky if we get anything more than a high floor or better view (plus a daily breakfast credit or access to the club lounge which, admittedly, is nice).
Hilton Aspire (gets you Diamond – top – status)
Marriott Bonvoy Brilliant
https://www.americanexpress.com/us/credit-cards/card/marriott-bonvoy-brilliant/
Hyatt – does not currently have a premium card, which is why their elite status benefits have not been watered down
(Link to everyday World of Hyatt card)
https://world.hyatt.com/content/gp/en/rewards/hyatt-credit-card.html
Obviously, you need to make use of the perks for these cards to justify their annual fee. But if you do, it's pretty much a no-brainer to get and keep one!