Sure, those are both great. The Anne Frank house is terribly moving. And the Red Light District is fun and weird, although those windows could use some boys. (It's funny how a city that's so liberal – they were the first country in the world to legalize same-sex marriage – draws the line at male prostitution.)
But Amsterdam has so much more to offer. If you're taking our 2024 Dutch & Belgian Delights river cruise – which starts in Amsterdam – or if you're just going on your own, check out these top picks for fascinating and fabulous ways to fill your time in this capital city of The Netherlands.
Canal cruises
Sure, it sounds cheesy and touristy, but Amsterdam's canals are SO scenic that cruising through them on a boat (especially at sunset) is an Instagram must. Remember, of course, that because it's so far north, sunset in the summer can be 9:00 or 10:00 pm. There are a variety of cruises, some including wine and cheese or a full onboard bar.
https://www.getyourguide.com/flagship-amsterdam-s72655/
If the weather is nice, opt for this boat, which has a much larger outdoor space than most.
Van Gogh Museum
It's hard not to love Van Gogh's colorful, emotional impressionism, and this sophisticated museum featuring scores of his works (along with some from a handful of his contemporaries) is a must for anyone who even halfway enjoys art. The audio tour tells a wonderful tale of his life. See if you can spot the potential male love interest in his life.
https://www.vangoghmuseum.nl/en
Rijksmuseum
The national museum of The Netherlands, this museum is epic – and a lovely, grand building (very similar to Centraal Station, the train station). What makes this museum special is the fame of the masterpieces hanging on its walls, like Rembrandt's Night Watch, Vermeer's The Milkmaid, and Van Gogh's Self Portrait (yes, this museum has a few Van Goghs, as well – he was a Dane, after all).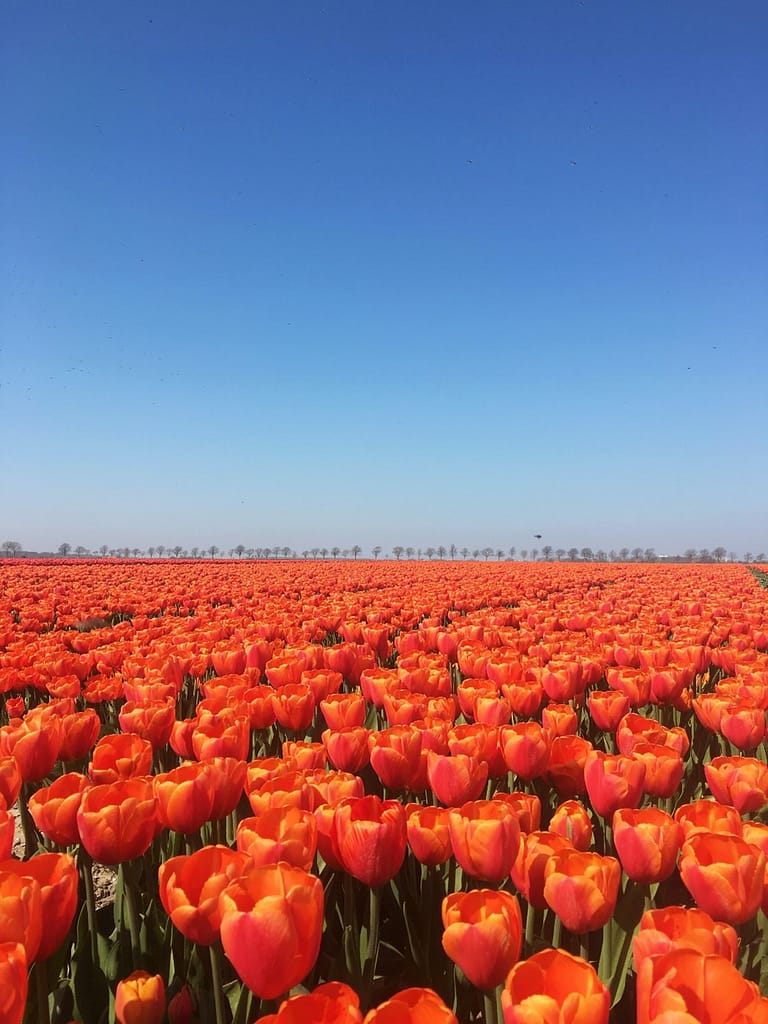 Flower Market
This market is at its best in the spring (March through May) when you'll see a sea of tulips. (Buy some for your hotel or river cruise room.) But even in the summer and early fall, you'll find stunning – and surprisingly inexpensive – bouquets at this super-fragrant market, which happens to be the world's only floating flower market. You can also buy tulip bulbs to take home (it's legal to export them).
https://www.amsterdam.info/shopping/flowermarket/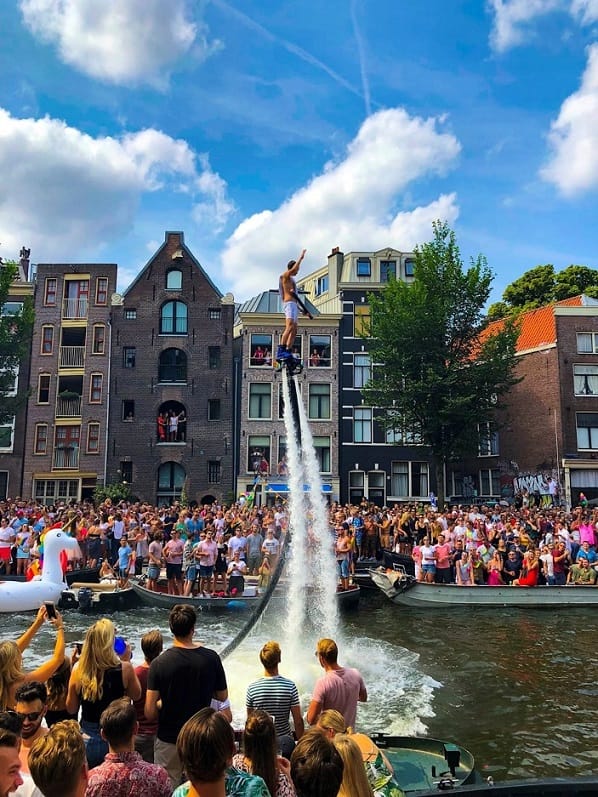 Amsterdam Pride
If you're here in early August, Amsterdam's pride parade is an absolutely can't-miss event – the world's only floating pride parade. Hundreds of thousands line the canals along the parade route, some (locals, mostly) partying in boats tied to the sides of the canals. (Those parties are a can't-miss sight in and of themselves.) This is a typically European celebration, in that everyone turns out – gay folk, straight folk, grandmothers, you name it. It's sexy, wild, and loving all at the same time. You'll feel a true sense of community.
Check out this post for information on navigating the parade (and some VIP viewing options):
Note: if you're taking our 2024 Dutch and Belgian Delights river cruise, which starts right after Pride, we'll be offering a special pre-cruise hotel package. We also hope to offer an option for VIP access to the parade, but it's difficult to make these arrangements until the previous year's Pride has concluded; so that information will be available this fall. Check this page for details as they become available:
Romantic Dining
Amsterdam – being the stupidly scenic city that it is – has many options that offer more than just great food.
Vuurtoreneiland – located on Vuurtoreneiland (Lighthouse Island) in Amsterdam-Noord, dinner here is a production. Your ticket includes a romantic boat ride to the island, during which you'll enjoy snacks and an aperitif; then you'll have a five-course dinner paired with wine on the island. If you go in summer, dinner is served in the greenhouse; in the winter, you'll dine indoors inside a historic military fort. Really memorable.
De Kop Van Oost – this is a contemporary restaurant featuring glass walls and a partial glass roof that offers spectacular views of the water. Go in the evening and you can see the stars through the glass panels in the ceiling.
De Kas – set inside a huge, high-ceilinged greenhouse within a lovely park, De Kas has renowned cuisine. You won't get that Amsterdam water/canal view, but the park views are beautiful and the food is excellent.
Day Trips
There are lots of great, inexpensive day trips offering a wide variety of experiences. Several will take you into the Dutch countryside to see windmills and sample cheese (in villages like Edam), others to the Belgian city of Bruges, to the Hague, Rotterdam, etc.
We're big fans of Viator, the tour consolidator that vets all their suppliers. We've never had a bad experience. We especially recommend the small-group versions of tours.
And if you prefer a private guide, check out Tours By Locals.
Note: if you're taking our 2024 Dutch and Belgian Delights cruise, be sure to note the experiences that we'll be offering aboard the cruise so you don't replicate them in some manner here.
Pot
For many of us, this is way less of a lure than it once was, what with the legalization of pot in many states. But it can still be fun. Coffeeshops (these don't serve coffee, they're just stores that sell pot) are everywhere. And of course, they're not seedy, bad-neighborhood joints. The staff are very helpful, pointing you to the products best suited to you (depending on whether you want an energetic high, a relaxed one, to use it for sleep, etc.)
Be warned: the weed is potent. I was alone on one visit years ago, and the girl behind the counter rolled a joint for me. Three hits later, I was so stoned I couldn't find my way back to the hotel. Of course, if you know me (Eric), I need GPS to find my way out of a parking lot. But still.
So, as you can see, this Danish capital has a lot more to offer than just the two most famous attractions. In fact, you'll be going "AmsterDAMN there's a lot to do."
Sorry, it was just hanging out there.