No matter what your taste in nightlife, Vienna has it. Probably the grandest city in all of Europe (and that's saying something – those European rulers didn't exactly have restraint), Vienna is glamorous, sexy, and cool. And whether you're going on your own or taking Brand g's annual Prague and Danube cruise (which offers two nights in Vienna) or Christmas Markets cruise (which begins in and overnights in Vienna), you'll want to take advantage of all the options this incredibly gorgeous city has to offer.
CLASSICAL MUSIC: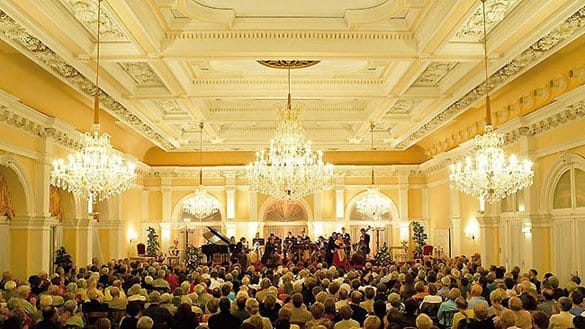 If you do one thing at night in Vienna, take in a classical music performance. The venues are attractions in and of themselves, and the air of pageantry and sophistication is everywhere. And Vienna is the home of Mozart and Strauss, after all. Take in a concert at the beautiful Kursalon (Brand g coordinates this as a special evening excursion).
Or visit one of the grandest opera houses in all of Europe, the Vienna State Opera. This enormous edifice is loaded with marble staircases, chandeliers, bar spaces and private rooms, and the theatre is a monument to opera and ballet.
If you don't favor the opera or ballet offerings of the Vienna Opera House (personally, I'm a Broadway fan), it's still worth buying a ticket just to see the interior of this magnificent building. There are two simple, inexpensive ways:
Take a backstage tour – these are fascinating, and you get a view of the house from the stage. They're operated frequently and are only 13 Euro.
https://www.wiener-staatsoper.at/en/staatsoper/guided-tours/
Buy a standing room ticket for a performance – these are just 5-10 Euro, and are a great way to get to see both the opera house and the high-ticket patrons who really dress for the occasion. The nice thing about the standing room seats is that, since they're in the top balcony, you can leave during the performance if you get bored without disturbing the (handsomely paying) guests.
BARS/CLUBS:
After you've had your fill of waltzes, hit the bars, and hit 'em hard. There are venues for every flavor of man or woman. Vienna's bars tend to be small, but some are downright opulent, which is a nice change of pace from traditional gay bar décor, where the surfaces get hosed off in the morning.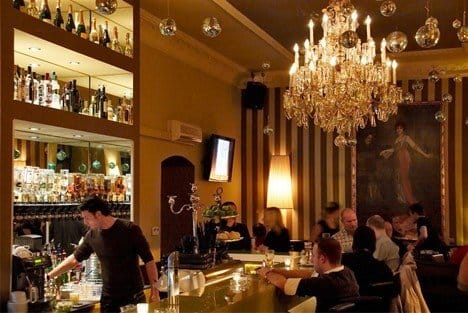 Felixx – often referred to as Vienna's most glam gay bar, it has that "a designer exploded in here" vibe.
Sling Bar & The Eagle – This photo should give you an idea. Both of these are unpretentious, cruisy clubs that will bring out the little devil in you. We've heard stories of the antics that go on in here.
https://eagle-vienna.at/index.php/de/bar
MIXED BARS:
Looking for something a little more glamalicious?
Try Heidi, a former chalet right on the Ringstrasse, Heidi emits a slick, sophisticated alpine ski chalet vibe. They play pop from all eras, which means everyone will hear tunes they love. A little pricey, but worth it for the glam vibe.
COFFEEHOUSES:
Café Savoy – Vienna is known for its coffee scene, and the king of gay coffeehouses is Café Savoy, right on the Naschmarkt. A combination coffeehouse/gay bar/restaurant in the former Palais Wernburg (built in the 19th century), it's small but beautiful.
SHOPPING:
Who doesn't want to buy something pretty in Vienna? [Your joke goes here.] With exchange rates for the Euro at their lowest levels in decades (a few years ago the Euro was about $1.35; currently, it's on par with the dollar), shopping is now a much better bargain here. And Vienna has every store imaginable.
Our favorite shopping district is the Golden Quarter, the luxury shopping mile in Vienna's Old City. Not only is it slick and fabulous and fun to walk, it has great people watching. And it's bordered by Old City landmarks like the gorgeous St. Stephens Cathedral.
And if you're there during the holiday season, it's incredibly festive, with Christmas trees and tons of lights and themed displays strung from building to building.
https://goldenesquartier.com/en/
Get your Austrian on! For more information, check out this LGBT Guide to Vienna (don't be put off by the German; English translations immediately follow):
https://www.wien.info/media/files/gay-lesbian-guide-wien-de-en.pdf