No matter what your taste in nightlife, Vienna has it. Probably the grandest city in all of Europe (and that's saying something – those European rulers didn't exactly have restraint), Vienna is glamorous, sexy, and super cool. And Brand g's Prague and Danube cruise overnights in Vienna, so you can take advantage of all the options this incredibly sophisticated city has to offer.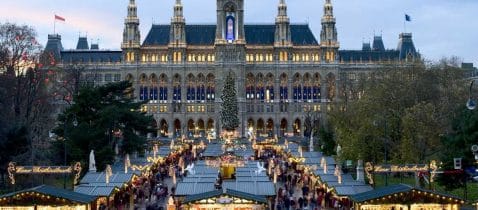 CLASSICAL MUSIC:
If you do one thing at night in Vienna, take in a classical music performance. It is the home of Mozart and Strauss after all. Brand g has you covered Here. We offer an optional Mozart and Strauss concert at the beautiful Kursalon, located in Stadtpark in the heart of Vienna.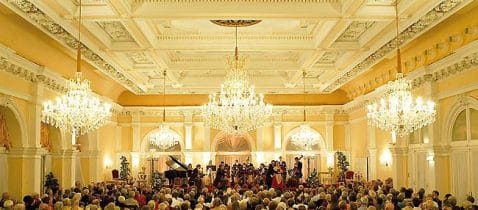 BARS/CLUBS:
After you've had your fill of waltzes, hit the bars, and hit 'em hard. There are venues for every flavor of man or woman.
Felixx – often referred to as Vienna's most glam bar, it has really over the top décor. If you've been to Las Vegas' Cosmopolitan, you'll feel right at home. Don't miss it.
Pitbull – Vienna's premier bear bar (restricted nights; check website), for the grizzly – or cub – in you.
http://www.pitbull-clubbing.at/
SUPPER CLUBS:
Albertina Passage – a former underpass converted into a superglam, modern venue for live jazz, DJ's (late night), dancing and global dining.
http://www.albertinapassage.at/
COFFEEHOUSES:
Café Savoy – Vienna is known for its coffee scene, and the king of gay coffeehouses is Café Savoy, right on the Naschmarkt. A combination coffeehouse/gay bar/restaurant in the former Palais Wernburg (built in the 19th century), it's spectacular.
SHOPPING:
Who doesn't want to buy something pretty in Vienna? [Your joke goes here.] With exchange rates for the Euro at their lowest levels in decades (just 3 years ago the Euro was about $1.35; currently, it's hovering at $1.05-$1.10), shopping is now a relative bargain here. And Vienna has every store imaginable.
Our favorite shopping district is the Golden Quarter, the luxury shopping mile in Vienna's Old City. Not only is it slick and fabulous and fun to walk, it has great people watching. And it's bordered by Old City landmarks like the gorgeous St. Stephens Cathedral.
Get your Austrian on! For more information, check out this LGBT Guide to Vienna (don't be put off by the German; English translations immediately follow):
https://www.wien.info/media/files/gay-lesbian-guide-wien-de-en.pdf