Vietnam is a study in contrasts. There are few countries where you can have such a diverse array of experiences in a short time – from gorgeous and meditative nature (the 2,000 limestone islets of Ha Long Bay) to sophisticated and utterly chaotic urban environments (Saigon and Hanoi) to rural villages along the Mekong Delta where even TV and wifi are rare.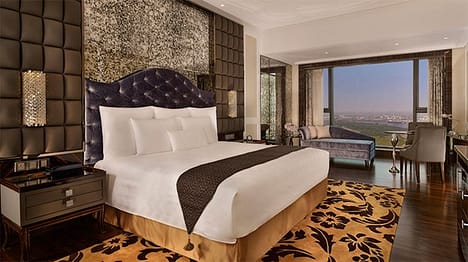 It's been less than 50 years since America attempted to bomb this southeast Asian country into oblivion. And in the intervening decades, Vietnam has managed an admirable amount of rebuilding in its major cities. In Ho Chi Minh City (formerly Saigon) and Hanoi, you can stay in plush 5-star hotels and enjoy dinners of Michelin-starred cuisine. You can shop at amazing galleries and pick up gorgeous works of art for a pittance. (The exchange rate is vastly in favor of the dollar.)
(The Reverie, Saigon)
Yet just a mile from the city center, electric poles are heaped with lines and falling over, traffic is insane, and middle-class people eat street foods like rat on a stick. Yes, rat.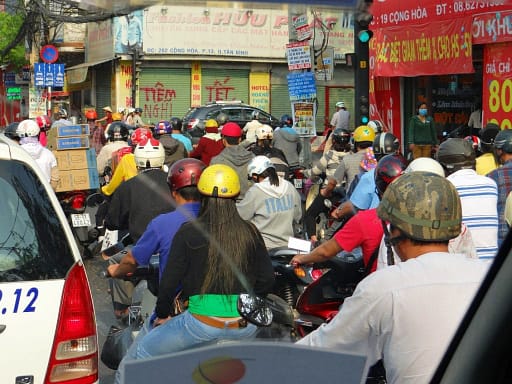 (Motorcycles are the preferred method of commuting)
And then, when you trek into the countryside along the Mekong Delta, you'll see life as it has existed for hundreds of years. Proud but poor families run small farms harvesting rice with ancient equipment, or hand-make related products, like rice paper and candies, using every member of the family as unskilled labor. There are few modern conveniences. It's like a time capsule of centuries past.
This panoply of experiences is what makes the country both richly rewarding to see, and somewhat overwhelming.
Before we go any further, please don't misunderstand – you can go to Vietnam on your own. But there can be many moments that are confounding and difficult if you're not part of an organized tour. The language barrier is intense – only a tiny percentage speak decent English. The pace and seeming lack of adherence to some laws and rules in the big cities can seem bewildering. Touring requires locals who know how to navigate the motorways and the culture.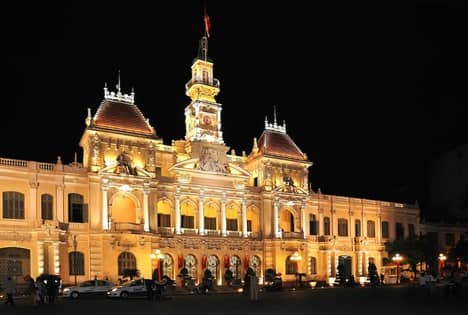 This is why we recommend you take a 4.5 or 5-star tour (like Brand g's Vietnam & Cambodia River Cruise and Land Tour vacation – one of co-owner Jeff's absolute favorite trips) rather than attempting it on your own. Any high-quality tour operator can get you there, and you'll be glad to have the security of English-speaking staff and comfortable environments to retreat to after a busy, consuming day. And since pricing is definitely in your favor when it comes to southeast Asia, go for a top-notch operator. You'll be glad you did.
THE CITIES
Saigon and Hanoi are big, crowded and full of fascinating Vietnam war-era sights. And since the country was occupied by France for almost 100 years, there's a significant amount of French Colonial architecture in the business quarters, which gives these otherwise very Asian cities a twist of European glamour.
(Ho Chi Minh City, aka Saigon)
SAIGON
(Soldiers guard the doors to Ho Chi Minh's tomb – Saigon)
Here, you'll get a blast of the overcrowded, nonstop life of contemporary Vietnamese. It's chaotic, exciting, and not for the faint of heart. (Once, again, this is where a high-quality tour operator can squelch the sense of overwhelm.)
In Saigon, you'll likely stay in the business district, which is where all the finest hotels are located. This is a great base for strolls around the neighboring boulevards, to take in the architecture and see how urban Vietnamese live. (Much like in Europe, they live outdoors. Their homes are generally small and cramped, so meals and socializing, particularly for young people, occur outside.)
(Cu Chi Tunnels)
Just outside of Saigon (only about 15 miles, but an hour's drive in traffic) is a can't-miss attraction – the town of Cu Chi, famous for its series of underground tunnels and rooms in which the villagers lived during the Vietnam War. This is not just a naturally-occurring labyrinth of caves; the townspeople dug hidden entrances, tunnels and additional rooms, and lived down there 24/7 as a way to survive the catastrophic war. If you've ever been to the Churchill War Rooms in London, the underground bunkers from which Churchill and his teams led World War II, those are virtual palaces compared to these no-frills dirt and rock spaces.
The tunnels and the ground above, which are now a museum, have exhibits showing the horrific but creative traps the Vietnamese hid on the ground above the tunnels to kill and maim soldiers and stop them from discovering the tunnels. This museum – and the short informational film you sit through prior to touring, which features a voiceover about "American imperialism" – is a sobering example of the horrors of war and a testament to the people who tried to survive it.
HANOI
In Hanoi, the first thing you will notice is the popularity of motorcycles. There are more than 6 million of them, some holding an entire family on one scooter. They create a cacophony that is unmistakable.
Here, the "Hanoi Hilton" is also an unforgettable experience. Hoa Lo prison – now a museum – is where American soldiers were held and tortured during the Vietnam War. Only a small section remains, but the exhibits, including a guillotine used to behead Vietnamese Revolutionaries, are eye-opening.
Be sure to stop at Truc Bach Lake in downtown Hanoi. This small, pristine lake is where John McCain crash-landed and was captured as a POW in 1967. It's a lovely respite from the chaotic bustle around it, and – much like the beaches of Normandy in France – it's profound to sit for a moment in this peaceful setting and envision the horrors that occurred there just a few decades before.
THE MEKONG DELTA
This is where you will enjoy the river cruise part of your vacation since there's no practical way to see more than one or two of these villages otherwise. (Road infrastructure in the rural areas isn't what it is in the urban centers.) Here, the pace will slow down and allow you to appreciate the lush beauty of the Mekong and step into a place that time forgot.
There is some poverty, certainly. After all, the small villages that line the river are nothing if not backwards. But the people are extraordinarily kind and welcoming, and there is tremendous beauty in their proud way of life. Here, you can meet local families who will serve you elephant fish (a tasty fish native to the Mekong) and show you how they run their modest farms or "factories".
(A well-eaten elephant fish)
For this river cruise portion, Brand g uses the extraordinary Mekong Jewel, one of the most sophisticated ships to ever sail the Mekong. It's striking to spend a day in the humble world of these local farmers and craftsmen, or visit ancient religious sites, and then step back into the glamorous, 5-star setting of the Jewel. It's a moment sure to remind you of how fortunate we as "wealthy" Americans are.
(Mekong Jewel)
Many of these river cruises also include a significant part of Cambodia (the Mekong also flows through both Cambodia and Laos), which is steeped in history, with fantastic religious ruins and war memorials. Cities like Phnom Penh (with its infamous killing fields) and villages like Angkor Ban paint a vivid picture of how this beautiful country has – like its sister, Vietnam – struggled to pull itself from the grip of the war.
HA LONG BAY
A UNESCO World Heritage site, this bay is simply stunning, and is natural beauty at its finest. 2,000 limestone islets jut out from the water, creating a visual landscape unique in the world. Take a Vietnamese junk and sail languorously among the islets. Some of the outcroppings are only 50 feet tall, others hundreds, and every turn of the bay creates a different experience. At sunset, the islets take on incredible hues. It's a truly unforgettable experience.
So, is Vietnam a delight or disaster? In some ways, it's both. Is it worth seeing? Unquestionably YES. You will come away from this trip with a profound sense of the beauty of southeast Asia, the cacophony of a country in the throes of growth, and the dignity and struggle of its people.
It's like a visual history lesson, with 5-star accommodations and meals. And for us gay folk, that's a two-fer.