At Brand g, we'd wanted to get into small ship luxury OCEAN cruising for some time, and in 2022, we finally took the plunge. Our first cruise – a 2023 Spain, Morocco and the Canary Islands cruise on the new luxury cruise line, Atlas Ocean Voyages – sold out in 30 minutes, which practically blew our wigs off. We knew we'd hit on a product for which there was pent-up demand.
So, we formed a partnership with Atlas. And now, for 2024 we have THREE cruises on their ships, in southern Europe, northern Europe and northern Africa.
But what exactly does it mean when we say a cruise is "Atlas Class"?
This term is used to denote not only the fact that it's a cruise on an Atlas ship, but that the cruise offers our highest level of luxury, as you'll see below.
SERVICE
Atlas' small ships hold just 200 guests, and have an extremely high staff-to-guest ratio (130 crew, which means 1.5 guests per staff member). By comparison, on a mainstream big ship cruise, this ratio is 3 to 3.5 guests per staff member. Thus, the service onboard, from wait staff to room stewards is exceptional. Expect the cocktail servers to remember your favorite drink, and your room steward to know which L'Occitane bath products you favor.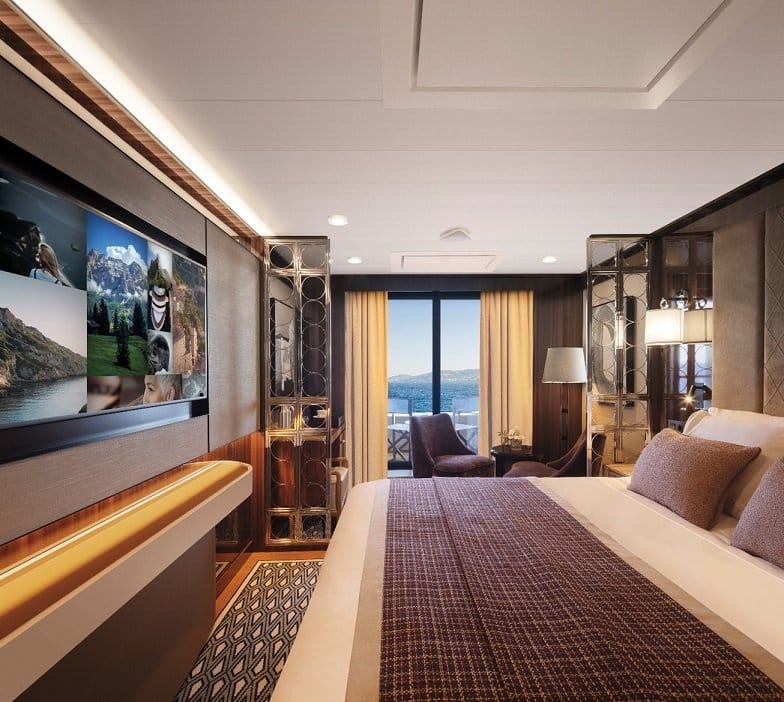 ROOM SIZE
The smallest cabins are the 183-sq-foot solo cabins (yes, this ship has cabins for solo travelers!), which is the size of a typical room for two on a river ship or large ocean cruise ship; and they go up from there. Balcony rooms average 300 square feet, and suites run up to 465.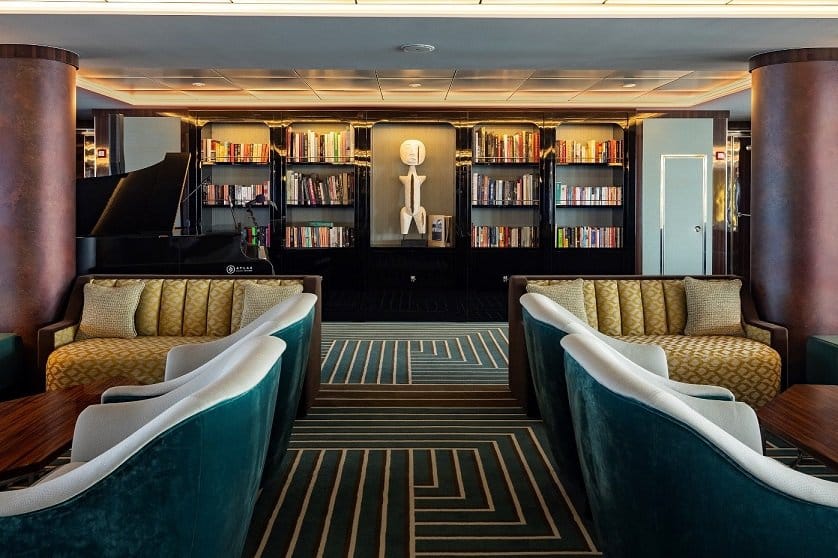 DÉCOR
Atlas' style is "relaxed luxury", and this is reflected in their décor, which features a blend of contemporary and mid-century modern. No Marie Antoinette furnishings here; it's a style in line with that of the world's best boutique hotels. The bathrooms are (for me, the author of this blog) worth special note. Clad in white marble, they feature all-glass showers with multiple showerheads, and towels that are fluffy and fabulous. In similar fashion, the bed mattresses are top of the line, like what you'd get in a room on NCL's The Haven or Celebrity's The Retreat (those all-suite ship-within-a-ship areas onboard their newest vessels).
FOOD & WINE
Atlas excels here, with food that is consistently rated top-notch by guests. The food is regionally inspired, i.e. created to match the region in which you're traveling, and the presentation is exceptional. Their ships feature several dining venues (and bars), from glam to outdoor casual. Who doesn't love dining on deck while you're sailing?
Check out their brochure on dining:
https://atlasoceanvoyages.com/wp-content/uploads/2021/07/AOV_WNAV_DINING_PROGRAM_DIGITAL_BROCHURE.pdf
SHORE EXCURSIONS
Atlas prides itself on excursions that are more than the typical bus or walking tour. They feature more immersive options that include really unique elements – say, a gourmet cooking class in Italy or a penguin-spotting tour in a zodiac boat in Antarctica.
This was an extremely important component to Brand g, since special moments on tours is one of our signature offerings.
As mentioned above, because their ships are built to sail around the world, and because Atlas is a "luxe adventure" brand, the ship carries special craft like zodiac boats and jet skis for use in ports.
ALL-INCLUSIVE NATURE
This is a staple of Brand g trips, but we've taken what Atlas offers as standard inclusions (which was already impressive) and upped the ante even more. All of these perks are included on every Brand g Atlas Class cruise:
Deluxe pre-cruise hotel night
All meals onboard (no specialty dining fees or additional costs for that morning cappuccino)
All alcoholic beverages, including premium pours
All shore excursions
All airport and hotel transfers
THE BEST OF OCEAN AND RIVER CRUISES COMBINED
Atlas ships feature the small passenger count (200) and navigable ship size (six decks) that our guests love, with the features of a large ocean ship, i.e. multiple dining venues and bars, big pool and hot tubs, multiple outdoor spaces, two performance venues, a top-notch spa, etc. The ships do not have a casino, rock-climbing wall or a roller coaster, but you may be relieved at that. (I know I am, at least a little; if my husband was going to have an affair, it would be with a slot machine.)
The other great feature of its size as an ocean-going vessel is that it can dock in ports that large cruise ships cannot, like ones in Norway, Iceland, Croatia, Italy, etc.
Want even more information? Check out the cruise line's site:
And here's a sample review:
(We've avoided some of the reviews that were posted during the pandemic; Atlas was just getting its footing, and there were all kinds of Covid curve balls thrown their way.)