24-year-old Instagram models in onesies making fun of everyone over 30.
Leather men eating dinner in assless chaps.
These are the images that many people conjure when picturing a gay cruise or land tour. And while those aren't entirely objectionable (who doesn't love a little eye candy), that is not the Brand g guest.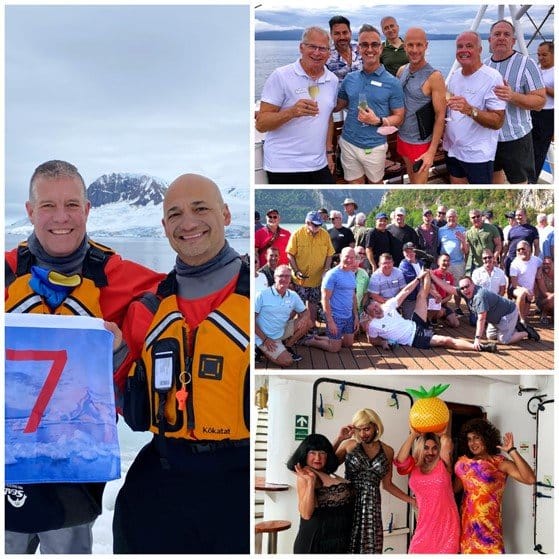 Because of the exotic and far-flung nature of many of our trips, Brand g attracts a more sophisticated and middle-aged clientele of men and women who tend to be a bit more interested in pinot noir than poppers.
That's not to say that Brand g vacations don't have their moments of wild fun, and that our guests don't know how to let loose. Far from it, and we have the photos to prove it. (Some can remain in the vault, for a fee.)
And that's also not to say that our vacations don't attract younger guests who know how to work it.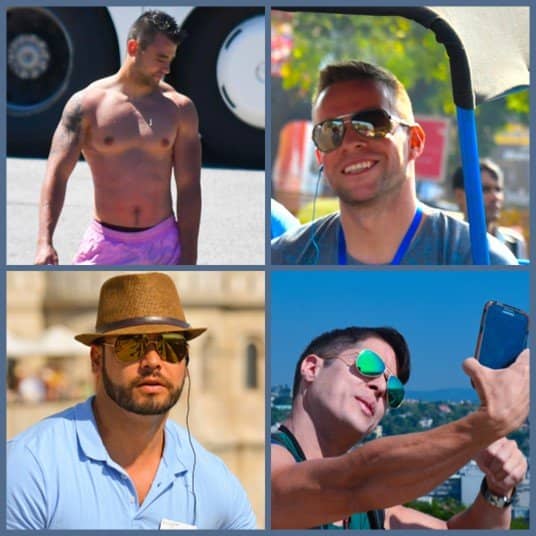 But because Brand g trips are more destination-focused than party-centric, we attract travelers who want to broaden their horizons more than their costume wardrobe. (We do frequently feature a themed deck party on our trips, but parties aren't the focus of Brand g itineraries.)
And over the last few years, Brand g has also significantly increased its visibility with Lesbian guests, and these fabulous women – who are heartily embraced by our gay male travelers – now make up a small but significant portion of our vacations.
So, with that said: are the guests on all Brand g trips the same?
No.
The majority of our guests are in their 40's, 50's and 60's, and you'll generally see some of each on every trip. But different vacations attract different types of travelers.
Our European river cruises, for example, by dint of their price point and length (7-9 days), tend to attract more people on the younger end of the spectrum – 30's to 50's. Guests can run well into their 70's, since those cruises appeal to virtually everyone, but you'll find more younger people on these cruises.
Our exotic trips, which are longer and more expensive, get a slightly more mature clientele – generally late 40's to 70's. Many of our retired guests will combine back-to-back trips – India and Nepal & Bhutan, for example – because they have the free time and financial bandwidth to do so. On these trips, you will see occasional people in their 30's and 40's, but they're often the partners of men or women who are a bit older than them.
But even the clientele on these exotic trips can vary, generally by the "adventure" factor of the trip. Peru or Africa, for example, which, although totally 5-star trips, involve nature, wild animals, etc., and can get a younger, more active crowd than, say, Japan or Scotland.
Of course, for gay people, 60 is the new 40 – do any of us look like our parents did at that age? – and it's reflected in our guests' nonstop energy. They tend to want to see and do everything. (Of course, this doesn't mean you have to.) So even our older guests are often avid sightseers full of enthusiasm for everything the destination has to offer.
Anecdotally, people have often asked me – since the trips are all-inclusive, 5-star vacations with a fairly significant price tag – if the guests are snooty. When I (as the company's Director of Marketing) go on Brand g trips, I'm not working; I'm a guest just like you. (I pay for the trips, they're NOT a freebie. Don't worry; you're not paying for me to be on that trip.) So, my husband and I experience the trip the same way you do.
And we have never – in nine trips – found the guests to be anything but lovely and friendly and welcoming. (The company's 95% repeat guest rate confirms that.) On rare occasions you'll get one bad apple, but that's unavoidable. As a whole, we've made many friends from our Brand g trips.
In fact, one of the greatest tributes Brand g receives is that people constantly tell us how they've come away with new friends that they continue to see socially when they get home, or with whom they arrange to meet up with on other trips.
So, to put it in the simplest terms, if you're looking for a younger crowd, the European river cruises are your best bet. And if you're looking for a slightly more mature group, the exotics and land tour vacations will fit the bill.
But no matter which you choose, you'll get a lot of sightseeing, a few crazy moments, and the kind of people that you have a lot in common with and with whom you can become lifelong friends. That's the secret sauce of Brand g.