I've always wondered what a luxury all-gay ocean cruise would be like. Does the laundry quietly replace your tattered 2Xist underwear with Versace? Does each suite come with a personal fluffer?
I'm sure most of us are familiar with both ocean cruises and river cruises, each of which has its advantages. Gay ocean cruises are great for their party atmosphere (who doesn't love a disco ball over the breakfast buffet) and the sheer number of ways one can entertain oneself onboard, some of which you live to regret later.
Gay river cruises are great for their smaller scale (you actually get to know fellow guests), for their ability to dock right downtown in a given city, and for the fact that they cruise the inland areas of a country rather than just whatever is on the coastline.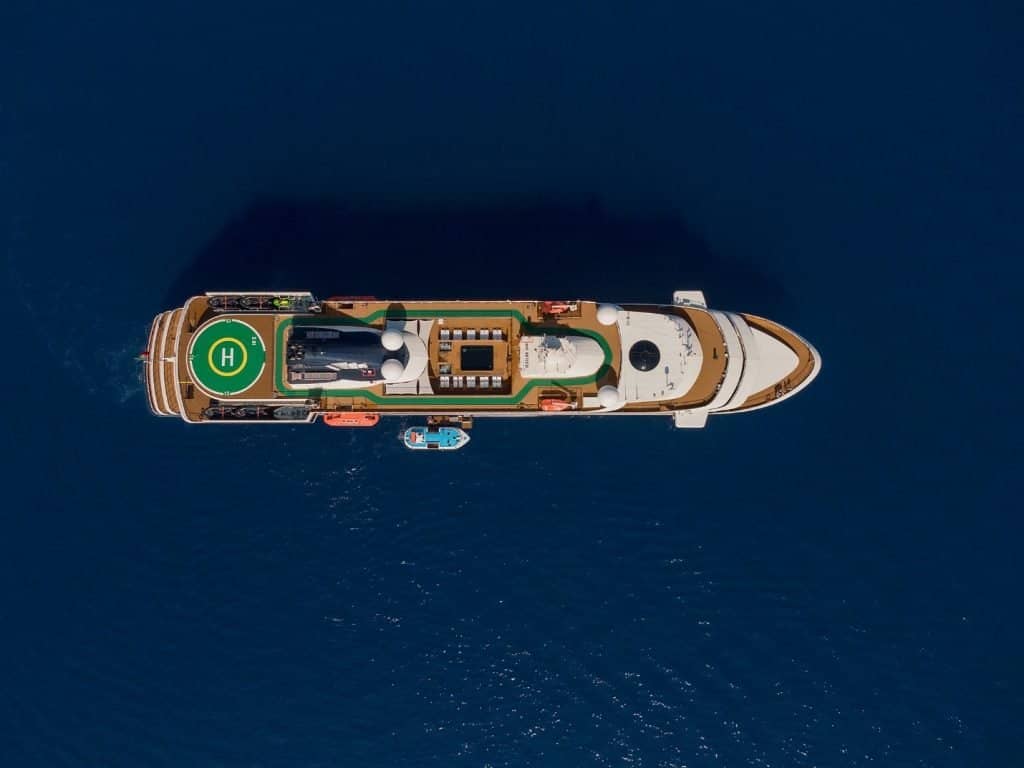 But a luxury small-ship ocean cruise is its own unique experience. These cruises offer the benefits of an ocean cruise – being out on the ocean, and having a larger scale ship with multiple venues and attractions – with the river cruise-like ability to go to unique ocean ports that a 3,000 person cruise ship can't.
Add to that the all-LGBT aspect, and you have a shoot-the-lights-out combination: glamour, uniqueness and lots of onboard options, all served with a side of festive homo fun.
So, what are these ships like?
Typically in the 10,000 ton range (river cruise ships average 3,000 tons, by comparison), they hold about 200 people, verses 150 on a river cruise. So, if you do the math, there's much more public space on the luxury ocean-going version.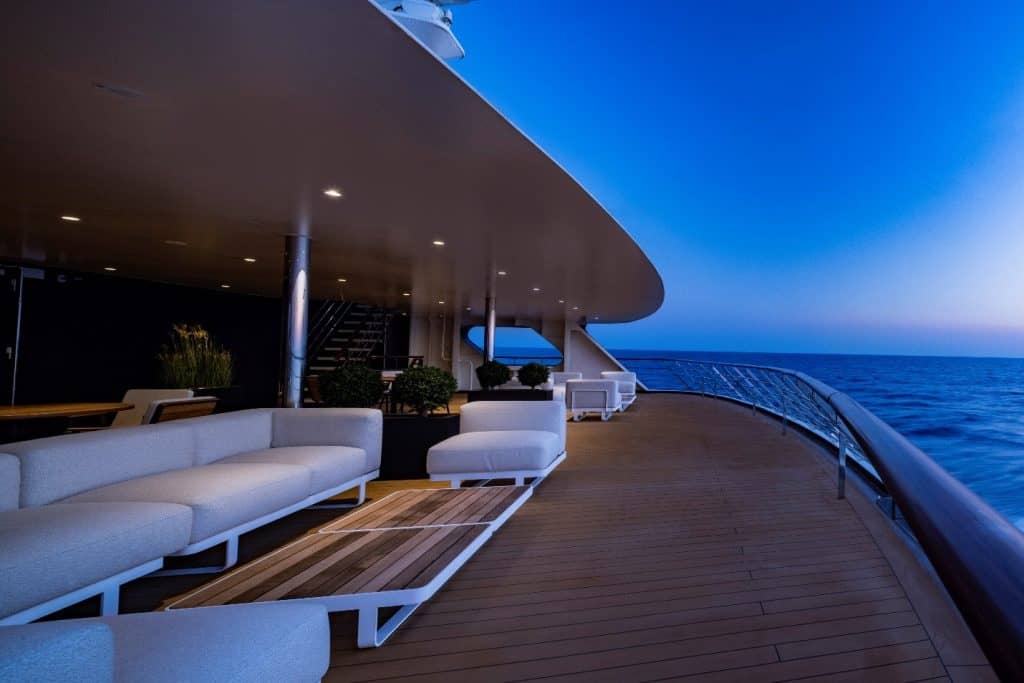 A ship like the World Navigator, which Brand g is chartering in 2023, offers what they call a "luxe adventure" experience, combining high-end décor, all-inclusive elements (like unlimited top shelf alcohol, etc) and extremely attentive service with an "active casual" feel; that is, a more casually luxurious feel, as opposed to the sometimes stuffy feel of lines like Regent or Seven Seas.
The staterooms on a luxury ship are considerably larger than either regular ocean or river cruise ships. Standard rooms on those average 180-200 square feet, while rooms on a luxury ship like the Navigator start at 270 and go up from there. Almost all rooms feature balconies, but even the lowest category have a large picture window that can be lowered at the touch of a button.
They're decorated in a contemporary style (often with mid-century modern or deco accents), and everything feels a notch above what you'd find on higher-end large ships. (Bathrooms on the Navigator, for example, feature white marble tile, multiple showerheads with side jets, and L'Occitane products.)
Luxury small ships also offer multiple dining venues. Rather than the single main dining room of a river cruise ship, there's typically a main dining room, a steakhouse or other specialty venue, a cafe offering soups and sandwiches, and of course, room service. The same thing goes for lounges: you'll find an observation lounge, a cocktail bar, and a pool bar (adjacent to the pool and two hot tubs).
Those who've been in the gym or spa of a river cruise ship can attest to the fact that, while they're functional and feature high quality gear, they're tiny. Both the gym and spa on small luxury ocean ships are much larger, offering more workout equipment and more expansive spa facilities (like Hammam, sauna, and a handful of treatment rooms).
And of course, there are multiple venues for entertainment – typically, a performance space in the large, front-facing observation lounge (for Broadway-style acts) and a smaller theatre for lectures or other types of performance.
Another plus – particularly from those who may suffer from seasickness – is the extremely smooth sailing experience. Small luxury ships like the Navigator have the latest high-end stabilizers that mean you virtually never get a lap full of vodka and cranberry. And for all but the most motion-sensitive, Dramamine and patches aren't necessary.
Luxury ships like the Navigator are designed for adventure cruises, like those to Antarctica or the Galapagos, so they have many types of water sport equipment onboard, like zodiacs, kayaks, paddleboards and jet skis. This creates opportunities for various adventure-style shore excursions in addition to the typical touring ones.
Then, of course, there's what Brand g brings to the table in terms of an all-LGBT aspect. First, there's the shows. Brand g's signature entertainers – Tony winners, cabaret kings and queens and the best in drag – will offer post-dinner performances virtually every night. Have your underwear ready to throw.
Then there's the parties. The silly and fun dance parties that Brand g creates on its river cruises and clipper sailings will become even bigger and more outrageous when taking place on the deck of a ship like the World Navigator. To be clear: we are not offering a circuit party at sea, but our parties are designed to make everyone feel welcome and included. You can be part of the ridiculous fun or just watch, and you'll feel equally at home.
And of course, there's the typical Brand g all-inclusive experience, which adds airport transfers, all shore excursions (with a rare optional exception) and pre-cruise hotel nights. Unlimited beverages are already included as part of the luxury small-ship offering, but with the additions of the elements mentioned above, Brand g makes it truly all-inclusive.
The luxury small ship ocean cruise is in a class by itself. It's the next iteration in Brand g's commitment to new and different experiences, and it's coming your way in 2023!
To see more of the World Navigator, check out this video: