Let's face it, we're seasoned travelers. We know all the ins and outs of packing a steamer trunk (like never rolling a beaded gown). And an eight or ten-hour flight to Europe is no big whoop.
Africa, though, can take 20+ hours of flying time, plus whatever connections you have to make, which is a bit more of an ordeal, even if all you're doing is watching movies and staring at the hot guy in 7H. Even champagne starts to taste less great on glass four. (Although it does make you more likely to talk to the hot guy in 7H.)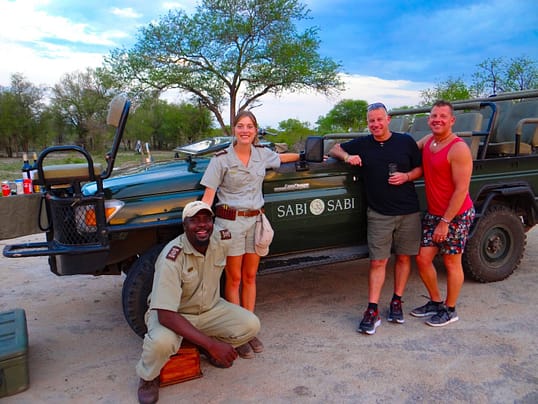 So, what makes schlepping halfway around the globe worth the trip?
Africa is a totally unique cultural experience, on every level. There are, of course, the incredible big game roaming across the game reserves, which is a life-changing thing to witness. There are the natural wonders, like Victoria Falls in Zimbabwe. There's the proud but poverty-stricken village of Soweto in Johannesburg. There's the uber-cosmopolitan Cape Town, which makes San Francisco look like third runner-up in the city beauty pageant. And best of all, there's the opportunity to have this plethora of different experiences all in one two-week trip.
Brand g's Africa vacations encompass all of these unique experiences, and wraps them in 5-star accommodations and touring. Although many Africans speak some English (particularly in the cities), this can still be a challenging place to navigate on your own. Doing it with a group – whether it's with us or any other higher-end tour operator – saves you the hassles of inter-Africa flights and visa issues, getting to the private game preserves (which are, of course, in the middle of nowhere), and enjoying special – and safe (this is Africa) – moments like taking a helicopter over Victoria Falls.
THE SAFARI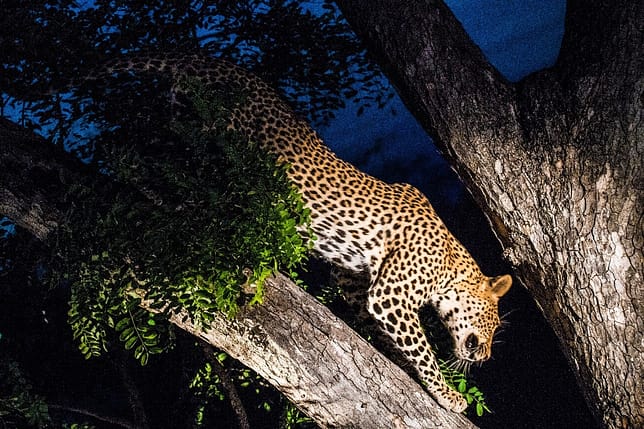 This is the biggest motivator to many people, and for good reason. It is extraordinary – sitting in an open-air jeep just feet away from animals that could turn you into a buffet. There's no reason to be fearful, though. Our ranger explained it to us this way: The animals view the jeeps and the people in them as one unit, and a nonthreatening unit at that. They basically just ignore the jeeps and go about their business of sunning and playing and hunting.
With that said, every jeep is manned by both a ranger and a nature guide, and outfitted with a rifle – although at Lion Sands, the massive, 5-star private reserve that Brand g uses, they've never had to fire one.
The private game reserves don't have fences. So, the animals come and go, get killed and are born, etc., just as nature intended. This isn't Disney's Wild Animal Kingdom, with animals that are fed and fenced in. (You may, nonetheless, feel moved to belt out a chorus of Circle of Life, with native dress and fire batons, and you wouldn't the first.) At these private reserves, you're getting a completely realistic, yet safe and up-close view of the wildlife.
Less expensive safari tours can be had to reserves like Kruger National Park, but then you're dealing with human-acclimated animals, not to mention dozens of jeeps driving on paved park roads like a caravan. There, you will feel like it's Disney. At the private reserves, you're driving across open savannah – no blacktop anywhere – and you'll never have more than one or at most, two other jeeps in your vicinity, because they want your experience to be as private and unique as humanly possible.
(Bathroom of Lion Sands guest suite)
To top off the twice-daily game drives, at Lion Sands you're staying in spacious, 5-star villas with air conditioning and every conceivable luxury. Want an antelope steak at 3pm? Just order room service. The safari camp is all-inclusive, so all meals and beverages are included, and the food is spectacular.
One of our neighbors during our stay had an elephant walk up to the plunge pool on their patio, drink out of it, and then affix the end of his trunk to their glass patio door, as if to say thanks, or hello, or "you got any apples?"
(Victoria Falls Hotel)
VICTORIA FALLS
A visit to Zimbabwe is like a scene from Out of Africa. You'll feel like Meryl Streep, but without the Danish accent and the cheating husband. The Victoria Falls hotel is a gorgeous colonial resort right next to the falls, and staying there makes you feel as if you've stepped into 19th century Africa (but with all the modern conveniences, of course). The falls are one of the world's largest, and taking a helicopter is the best way to take in the grandeur of this natural wonder. During ours, we saw giant herds of buffalo and antelope migrating.
(Victoria Falls by helicopter)
Another totally unique event here is a river cruise on the Zambezi river. I'm sure you're thinking, snore. A cruise down some boring stretch of river. Well, this river is filled with wildlife – crocodiles sunning themselves on rocks, hippos having a happy hour in the middle of the river while you're having one on your boat. And the sunsets – ridonkulous.
(one of the many residents at Victoria Falls Hotel)
In Zimbabwe, nature is everywhere. At the Victoria Falls hotel, wild boar roam the back of the property (they're kept away from the guests, but you can see them from your room) and breeds of small monkeys wander everywhere (except around the outdoor restaurants). They're adorable and fairly disinterested in the guests, although they do warn you not to leave your room windows open, as they've been known to ransack an unsuspecting guests' belongings. (Picture one of them wearing your Andrew Christian underwear on his head.)
CAPE TOWN
This gorgeous city – surrounded on three sides by water and topped by massive Table Mountain on the fourth – feels like such an anomaly to the wilds of Zimbabwe and the game reserves. It's chic and sophisticated, with glamorous hotels, Michelin-starred restaurants and fabulous shopping. After eight days of wild nature, it's a perfect way to cap off your African experience.
If you're on a Brand g Africa trip, you'll be staying on the waterfront – or the V&A, as its known (V&A is an acronym for Victoria and Albert – South Africa was once a British colony). The V&A is a high-end paradise of shops and restaurants, set against the stunning backdrop of the harbor and Table Mountain. (If you're with another tour operator, definitely opt for one of these 5-star waterfront hotels if they're offered, because it's incredibly memorable.)
Cape Town's indoor and outdoor markets are a must. Amazing artists sell their art here for ridiculously cheap prices. You almost feel bad paying the asking price. (Almost.) We bought an especially beautiful African mask at an artist gallery market for $65, and an unframed painting – that everyone who visits our house comments on – for $20.
(Atop Table Mountain)
Be sure to take the cable car to the top of Table mountain. Yes, it's touristy, but the views are absolutely spectacular. The closest comparison I can make is Corcovado Mountain in Rio de Janeiro. Everywhere you turn you'll find a different, stunning view. If you're an Instagram aficionado, this is your selfie moment.
(Boulders Beach)
But there's much more to this southern tip of South Africa than just shopping and dining. Within an hour or two's drive are two other exceptional experiences:
The Cape of Good Hope – here you'll see more stunning scenery and wildlife, like Boulders Beach, where a huge colony of adorable – and very busy – penguins live. You can't touch them, but you can get within a couple feet of them.
(De Grendel winery – where we have our amazing farewell dinner)
The Wine Country – you'll visit super chic wineries in the two wine-producing regions of Stellenbosch and Franschhoek. Here, you'll enjoy wine (reds are especially popular – 40% of all wines are made using the South African Pinotage grape) and olive oil tastings, and meals set amidst some of the more breathtaking scenery of any wine country in the world. One of the meals – lunch at the Warwick Estate, is a picnic lunch on steroids. Elegant, casual, gorgeous.
JOHANNESBURG
A caveat: Brand g's Africa trips do not include a stay in Johannesburg. The trip begins here, but you'll need to add on a couple of days to see the city. And it's worth it. Now, Joburg, as it's known, is not Cape Town. It does have some excellent hotels and restaurants, but the reason to begin your trip with a couple of days here is for the moving moments – the village of Soweto, the Nelson Mandela house and the Apartheid Museum.
After visiting these (many inexpensive day tours are available from tour consolidators like Viator), you'll come away with a real sense of what this country has been through. You'll have a real respect for what the black people of South Africa endured, and how they are, to this day, still pulling themselves out from under the thumb of their white rulers. Not only does starting your trip here allow you to acclimate, it will add yet another dimension to this incredible land.
Hopefully, this gives you a small sense of what this amazing continent has to offer. We guarantee you, it is worth every moment of the travel time. You will come back a different person – moved by nature, profoundly touched by history, full of fine food and wines, with art in your luggage and a vow to return in your heart.
Just make sure a monkey didn't stow away in your checked bag. You don't need him modeling your Speedos.