Scotland is a stunningly beautiful country. True, there aren't as many iconic sights as, say, Egypt (the Pyramids, Luxor, etc), or Peru (the Amazon and Machu Picchu) or Africa (Victoria Falls, Cape Town and of course, the safari). But if you love castles, lush scenery, history – and Outlander – it's a fantastic addition to your bucket list.
The problem is that many of the tours to Scotland are wham-bam itineraries with little uniqueness between them. So, how is Brand g's different, and why should you go with us?
Reason #1: A More Relaxed Itinerary
Those of you who've done our trips to places like Peru and Egypt can attest to the fact that they're packed with amazing sights; but they're also busy, active trips with a lot going on. But Scotland, as a country, moves at a bit of a slower pace. People smile in Scotland. They take the time to talk to you. You don't see teenagers walking down the street with their noses buried in their phones. It's a very different vibe.
And we feel that it's important for our trip to reflect that less hectic pace. Most Scotland tours operate on an "if it's Tuesday, this must be Edinburgh" philosophy, and that is not the Scottish way. So, what we might have compressed into 10 or 11 days on another trip, we've let expand to 13 days here.
Even so, we do cover a lot of territory. We see castles and beautiful scenery. We hit distilleries and tour great historical sights. But we do it at a relaxed tempo. So, you'll have time to take little naps. And have drinks with your fellow travelers. And never have to get up at 5am!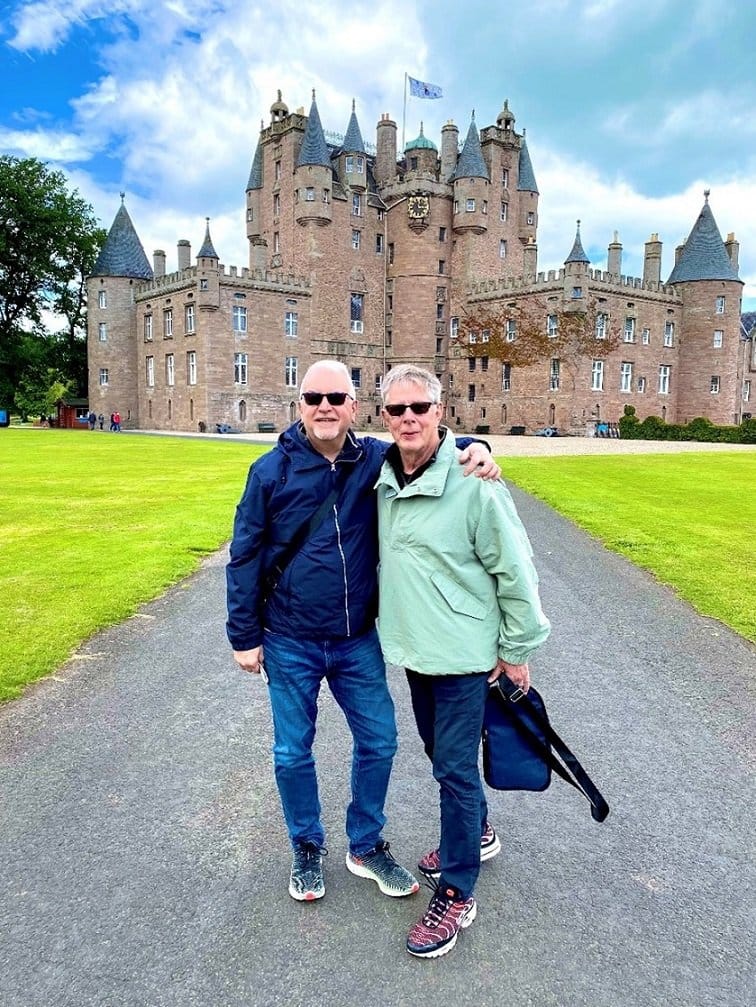 Reason #2: A Clever Choice of Locales
We attribute this brilliant move to our cruise director and actual Scotsman, Johnathon Gallagher, who designed this trip. (He lives in Dumfries, Scotland.) He suggested bookending a 7-night river cruise with two different hotel stays, and this itinerary minimizes packing and unpacking, and yet allows us to cover a large swath of the country. So, we can show you everything from the beauty of Inverness to the history and hipness of Edinburgh…with stops at many small towns and villages (and their centuries-old castles) along the way.
From the jumping-off points of these hotels and cruise ship, you'll get to see sights like Balmoral (the Queen's personal residence in Scotland), Edinburgh Castle, Glamis Castle (where the Queen Mother grew up), and the Culloden Battlefield (the site of Scotland's "Gettsyburg"). Not to mention distilleries, hip restaurants, and a closing event that is fairly breathtaking (more on that later).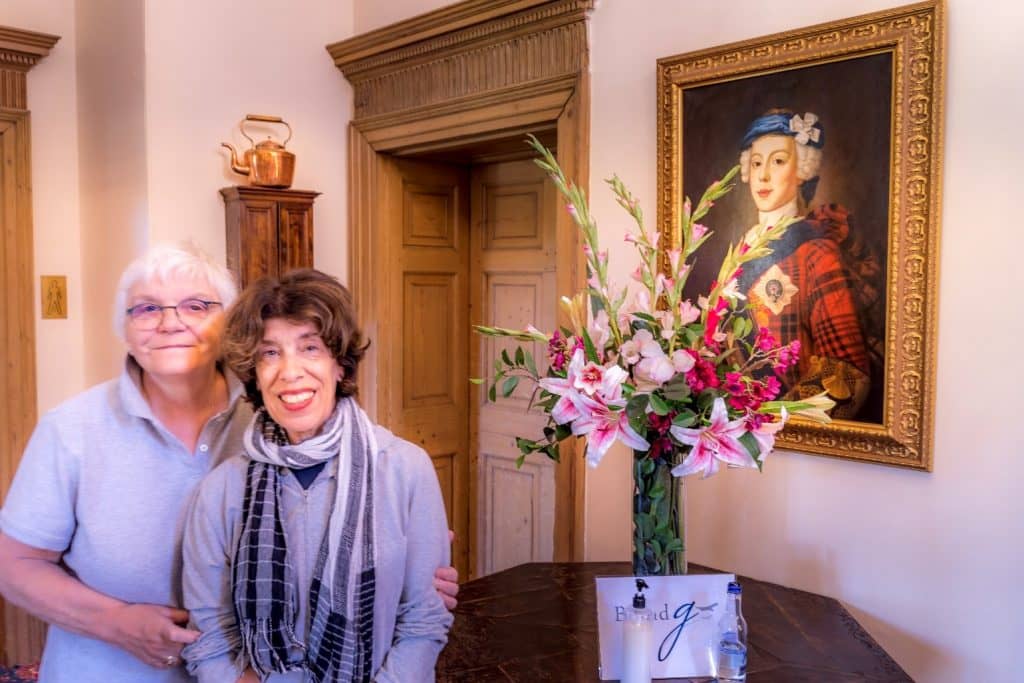 Reason #3: You'll Be in Brand g's Special Gay Bubble
From a rather spectacular bed and breakfast in Inverness (which we completely take over) to the river cruise down the lochs of Scotland, 10 days of this trip is solely LGBT. The only accommodation that isn't all ours is the Hilton Carlton in Edinburgh, which is a bustling city hotel smack in the middle of the Royal Mile; and its location makes it worth not having the place to ourselves.
Scotland is not a place like Egypt, where it feels more comfortable to be in a gay bubble since it's a Muslim country. The Scots are, as a whole, a very liberal people. But isn't every trip better when the world is turned upside down and you get to be the "normies"?
Reason #3: Signature Brand g Luxuries and Over-the-Top Moments
We've added special events and touches to this itinerary to give it true Scottish magic. Here are just a few examples:
Culloden House
A stay at Culloden House, the spectacular 18th-century "country house" that is now a bed-and-breakfast, kicks this Scotland trip off in true style. Tony Blair and members of the royal family have stayed here. Set on 40 acres, with a huge private garden, it's filled with chandeliers and antiques (but completely modern bathrooms, praise Jesus), excellent cuisine, and a staff that bends over backwards to accommodate its guests. Bonus: every evening at 6pm, a cute young bagpipe player strolls the grounds.
The Whiskey Tasting Experience at Amber (Edinburgh)
This evening kicks off with a high-end whiskey tasting. (One definite plus, since many of us on our recent Scotland trip weren't whiskey drinkers: Scottish distilleries don't do any kind of hard sell. So, you can taste as much or as little of the whiskeys as you want and learn about them, but feel zero pressure to buy.) The evening then transitions into a 5-star dinner comprised of all local ingredients, fashioned into glamorous contemporary cuisine by a celebrity chef.
Tip: While in Edinburgh, take in a restaurant or two on your own, as well. This city is packed with super cool venues. Friends and I had a birthday dinner for my husband at The Dome, a former 18th-century bank. It's a spectacular venue that's decorated within an inch of its life (their floral budget alone is thousands a week).
Private Dinner Aboard the Brittania
If ever there was an Instagram-worthy moment, it's this – a private, formal dinner aboard the Queen's former royal yacht, the Brittania.
The ship – moored in Edinburgh – is open to the public during the day for tours, with lots of velvet ropes to keep you from touching anything. But for this dinner, where the entire ship is Brand g's, the ropes are gone. You can sit on the queen's couches and use her crystal.
The event begins that afternoon, with fittings for $1,000 luxury kilts. These are the complete outfit – tuxedo jacket/shirt/tie, special Scottish shoes and socks, a "sporran" (the purse-like accessory that hangs in front of your kibbles and bits) and the kilt, in a color and pattern chosen by you in advance.
We then take a double-decker trolley to the ship, where we have an evening of cocktails and tray-passed hors d'oeuvres, a four-course meal (where the waiters did synchronized serving, setting plates in front of all the guests simultaneously, which is so very Downton Abbey), a tour of the ship, and entertainment. (During cocktails, a pianist plays a grand piano that has featured the likes of Cole Porter and Frank Sinatra.)
The evening concludes with a gift bag presented to each couple/solo traveler. Suffice it to say that photos of you dressed in a kilt, lounging and dining on the Brittania is something probably none of your friends can say they've ever done.
Convinced yet? Our 2023 trip is sold out, but a (short) waitlist is available, and we'll be offering this trip again in 2024.