My husband wasn't really excited to go to Egypt. He went because I wanted to go. Or because I threw a hissy fit. (I save them for really important moments.) But he returned with the same conviction as I did: that Egypt is phenomenal, a truly once-in-a-lifetime destination.
So, what makes it so great? Simple: it has FAR more sights than most people are generally aware of. What's the first thing you think of when you think of Egypt? The pyramids. And that's about it. Yes, the pyramids are amazing. But after visiting both Egypt and Jordan (we'll be publishing a separate blog on Jordan, which is also PHENOMENAL), the pyramids were number five or six on our list of top sights.
Egypt's ruins – and there are a LOT of them – put Greece's (and much of Turkey's) to shame. Many are massive, and extremely well excavated. Add to this the fact that – since most people have never been to the middle east – Egypt is a totally unique cultural experience, and you have a fabulous one-two punch. (Now, technically, Egypt isn't IN the middle east. It's Northern Africa. But it routinely gets lumped in with the middle eastern countries, particularly since it's heavily Muslim, so for the purposes of this blog we'll call it the middle east.)
To make this information on Egypt easier to digest, I'm going to break it down into three sections:
Part 1: Top Sights
Part 2: Wow Moment s (& Special Touches You Only Get with Brand g)
Part 3: Tips For Making the Most of Your Egypt Trip (Whether with Brand g or On Your Own)
First, let's cover some of those amazing sights:
TOP SIGHTS
Karnak Temple Complex
We had never heard of this site (clearly, we need to get out more). The second most-visited site in Egypt behind the pyramids, it's massively impressive. Begun around 2,000 B.C., it's a sprawling complex just north of Luxor. The hundred foot-high pillars and obelisks (all covered in hieroglyphics) and rows of statuary paying tribute to its rulers will literally make you gasp.
Luxor Temple
We visited this site at dusk, and it was magical. Not as extensive as Karnak (you can tour it in an hour), it nonetheless is spectacularly intact considering it was begun in 1,400 B.C. The temple entrance, the avenue of the sphinxes, etc. can't help but make you feel like Cleopatra (cat-eye makeup optional). And as the sun set and the site's lights went on – Egypt REALLY knows how to illuminate its ruins – the photo opportunities were incredible.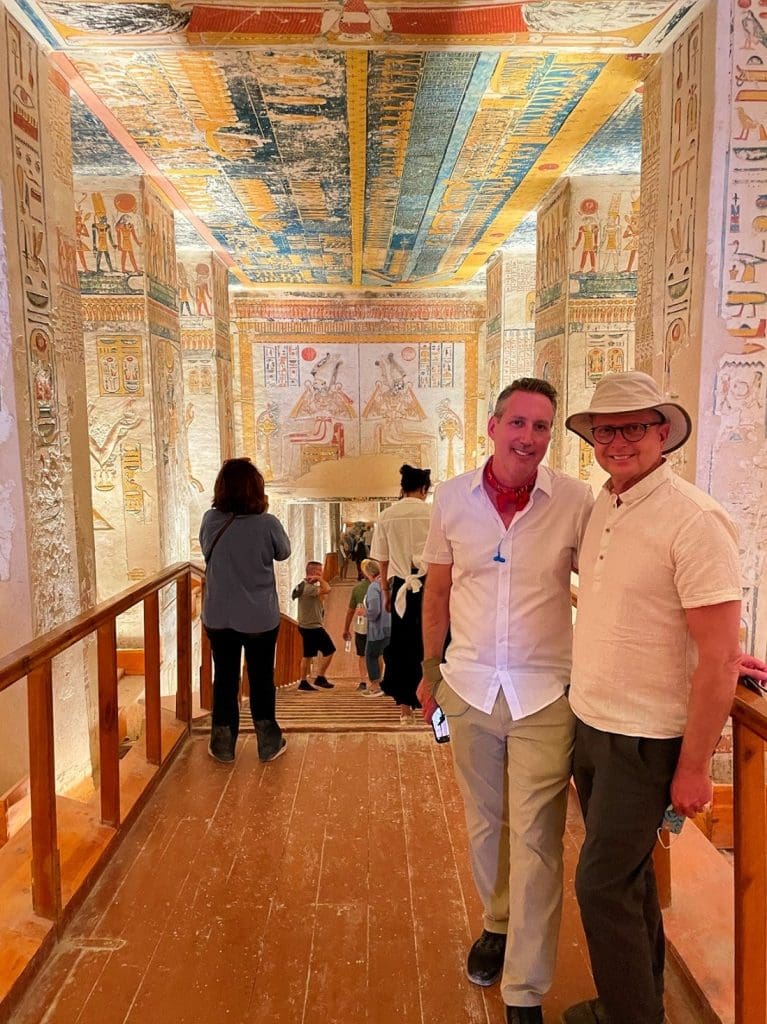 Valley of the Kings (and Queens)
When your bus or van first pulls into this somewhat desolate-looking site, you think, "What? It's just a desert valley". And then you start to notice holes cut into the rock. On the west bank of the Nile, this was the burial site of pharaohs and other nobles from about 1500 B.C. to 1075 B.C. Excavation at this site began in the late 1700's, and tombs are still being discovered. The tombs of rulers like Ramses II, Tutankhamun (King Tut), Seti and Queen Nefertari are so elaborate that they'll blow your mind. (King Tut's includes his mummy.) Note that there are a lot of stairs (some have ramps), since the tombs go well underground. Plan to spend half a day here.
Abu Simbel
This isn't the easiest site to get to, but it is unquestionably worth the trip. (Brand g flew us there from our Nile River cruise.) Built in the 13th century B.C. on the bank of Lake Nasser, the temples were relocated about 200 feet uphill from the riverbank in the 1960's because of incursion by the then-overflowing Nile river. The imposing main temple, built for King Ramses II, is considered one of the most beautiful in Egypt, with its four colossal statues of Ramses (why bother with one when four really makes a statement), and is the kind of thing Instagram posts are made of. Next door to it is a MUCH smaller temple for his wife, Nefertari – because, you know, she's a girl.
The Pyramids of Giza
Yes, they're massive. Yes, standing at the base and looking up at them is a humbling and mystifying wonder. The pyramids are a must-see. The largest of which, the Great Pyramid is believed to have been built in the 26th century B.C. and is nearly 6 million tons of limestone and granite. You can even go inside it (the entrance is about six stories up), although the walk requires being bent over for much of it and is NOT for the claustrophobic. (Honestly, there's not much to see once you're in there – the chambers were emptied by looters and grave robbers in ancient times. And it can be HOT in there.)
The only downside to these astounding monuments is the fact that: a) they're in Giza, which is part of Cairo, so depending on which direction you're standing, you have the ugly beige high-rises of Cairo in the background; and b) it is incredibly crowded and commercialized, much more so than any other Egyptian site. Still, you have to experience them.
The GEM
This museum – the Grand Egyptian Museum, or GEM – wasn't open when we visited (it isn't scheduled to open until November of 2022). But when it does, it will unquestionably be the Louvre of Africa, a massive, gorgeous museum featuring all of the King Tut excavations and far, far more. Egypt is spending more than $1.2 billion to make this one of the top museums in the world. And it's in Giza, right next door to the pyramids, so you can make a day of the two attractions.
The Bazaar
Much like the Grand Bazaar in Istanbul (except open air), Cairo's Bazaar is a similar cacophony of sights, smells and sounds – vendors calling out to you, street foods being cooked, and wares of all types – jewelry, scarves, lamps, etc. And it's all surrounded by the architecture of Muslim mosques. It's exciting, overwhelming and fascinating – for an hour. Not a place to spend a whole evening unless you're a glutton for overload, it's nonetheless a cultural touchstone for the Egyptian people and something you have to experience once.
There are many other amazing Egyptian sites and experiences, but hopefully this list alone will illustrate why you need to get on the next plane to Egypt (hopefully in business class – it's a long flight).
For Part 2: Wow Moments and Special Brand g Touches, click here.