If you've been to Lisbon, you can probably see why it attracts so many Americans. Portugal's capital, in the center of the country, offers tons of youthful energy and sophistication, all at relatively bargain prices for Americans.
And with its hilly topography, row houses and trams, it could very much be considered the San Francisco of Europe. (If you haven't been to Lisbon, GO, either on your own or on our 2024 Douro river cruise through Portugal, which begins there.)
But that's just the beginning of both its charms and its practical advantages as an American outpost.
COST
Portugal is on the Euro, which is a very stable currency and which is extremely favorable to the dollar at present. (In past years, it was often around $1.30-$1.35 per Euro, but it has gone down dramatically over the last 5 years or so – it's at $1.09 as of this writing.) But beyond that, it's the basic cost of housing, food and goods in Portugal that makes it so advantageous to Americans. Although housing has gone up substantially in Lisbon (and Porto) due to the influx of Americans, it is still quite moderate compared to U.S. urban centers. And everything else is – by American standards – a bargain.
WEATHER
Perched on the Iberian peninsula in southern Europe, Lisbon's weather is fairly ideal, with temperatures ranging from the 50's-70's throughout most of the year, and more than 300 days of sunshine. Lisbon is on the Atlantic Ocean, so it's not conducive to water sports like skiing and diving (without a wetsuit) since the water temperature is generally in the 60's, which will freeze your nips. But boating is, of course, very popular.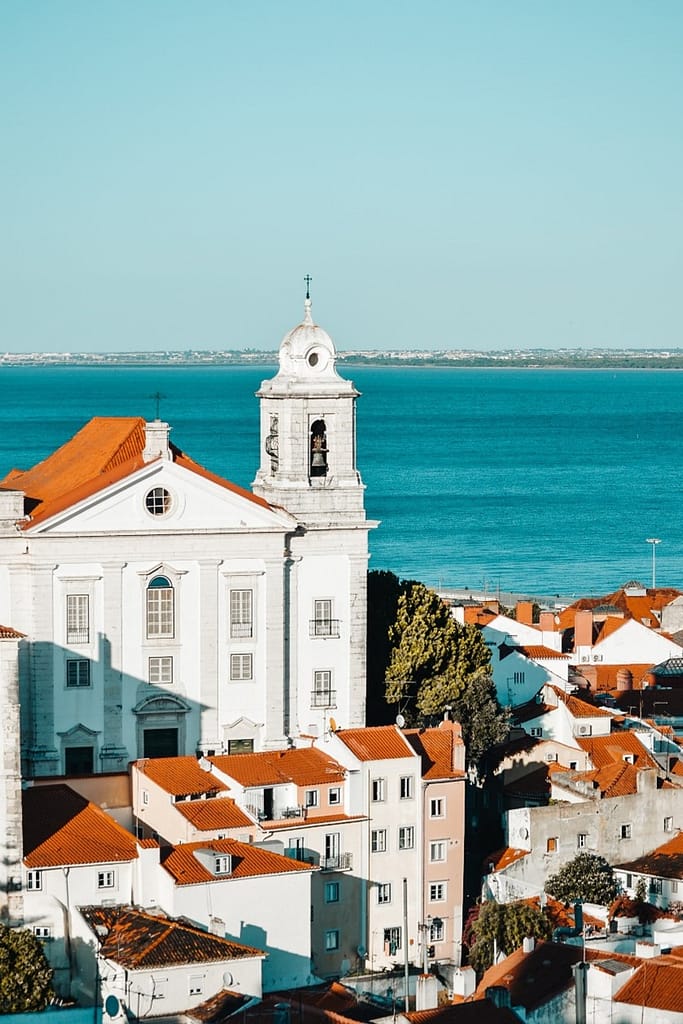 LANGUAGE
English is not an official language in Portugal, but the citizens' proficiency with English is so high that they rank seventh in the world. You'll generally not encounter any issues speaking English unless you're in more remote areas speaking to older generations of adults.
Of course, as with any foreign country, it behooves anyone wishing to live there permanently to try to learn at least the basics of the Portuguese language.
France has always had a stereotypical reputation for rudeness, but in reality, it's simply rooted in their experience of foreigners coming to their country and demanding that people converse in English. When you even attempt to speak in French, the locals' attitude changes dramatically. The same can be said in Portugal – you can speak all the English you want (particularly as a new resident), but throwing in a few Portuguese phrases shows your commitment to embracing their culture.
POLITICAL SITUATION
Portugal is a liberal, stable democracy that earns 96 out of 100 on Freedom House's scale of freedom in the world. Given the rightward swing of many countries around the world, you could hardly do better in terms of moderate politics.
https://freedomhouse.org/country/portugal/freedom-world/2021
It's also one of the most egalitarian countries in Europe. They legalized gay marriage in 2010 and gay adoption in 2016, and the country has many protections against discrimination.
PEOPLE
Portuguese people are not clannish. They're very welcoming, which makes acclimating here infinitely easier than many other countries. And of course, in cities like Lisbon there are large expat groups (you can find many of them on Facebook), which can noy only help you get acclimated but provide a welcome connection to home.
ACCESSIBILITY
There are many nonstop flights from the U.S. to Lisbon, which makes traveling to and from a breeze. And the relatively short distance from Portugal to Spain and France (and even Italy) means it's easy to hop to Paris, Madrid, Barcelona, Rome, Florence and many other destinations. Europe offers many low-cost airlines that have roundtrip flights between European countries for $100-200. And you can, of course, easily train to Spain, since it shares a border with Portugal.
THE EX-PAT POPULATION
There are nearly 700,000 ex-pats living in Portugal, most being Americans and Europeans. The majority live in Lisbon and Porto, with others scattered across regions like the Algarve.
OTHER GREAT SPOTS TO VISIT IN PORTUGAL
Porto is tops on this list, since it's just a train ride away and is not only scenic but is, of course, the world's capital of port wines.
https://www.lonelyplanet.com/portugal/the-north/porto
Then there's the famous Algarve region, which is not only historic, with its whitewashed fishing villages, but features fabulous beach and golf resorts.
https://www.tripadvisor.com/Tourism-g189111-Algarve-Vacations.html
HOW WOULD I GO ABOUT APPLYING TO LIVE IN PORTUGAL?
You need what's known as a Golden Passport. The rules have become more stringent due to the country's popularity as a place for remote work and/or retirement, but these passports ARE still available. The main qualification is money – you need to either spend a set amount buying a home, investing in a business, or maintaining a bank account. For most of our guests, the real estate investment minimum (most people choose this option, since they plan to live there part or full-time) is probably easily within reach.
EVEN IF YOU HAVE NO INTEREST IN MOVING THERE…
Portugal is a must-visit for its history, its natural beauty (the terraced vineyards lining the mountainsides are an epic part of any Douro river cruise), its food and wine, its culture (the arts are a huge part of Portuguese life) and it's live-and-let-live attitude.
More Info on Why You Should Choose Portugal as an Expat:
https://www.globalcitizensolutions.com/americans-living-in-portugal-why-you-should-move-there/