"It's dusty and dirty."
"It's a long-ass flight."
"I don't want to be a lion's lunch."
Some people have hesitations about traveling to Africa – and in particular, taking an African safari. But they've never taken a Brand g trip to Africa, and therein lies the difference.
Our 5-star land tour of Africa makes all of these fears moot. Well, except for the long-ass flight. We can't move a continent. But that lengthy flight is worth it, because you will come away from this trip a different person. Africa is #lifechanging. And seeing it the Brand g way is #luxurious.
How is it so luxurious and pampering? Read on.
VICTORIA FALLS, ZIMBABWE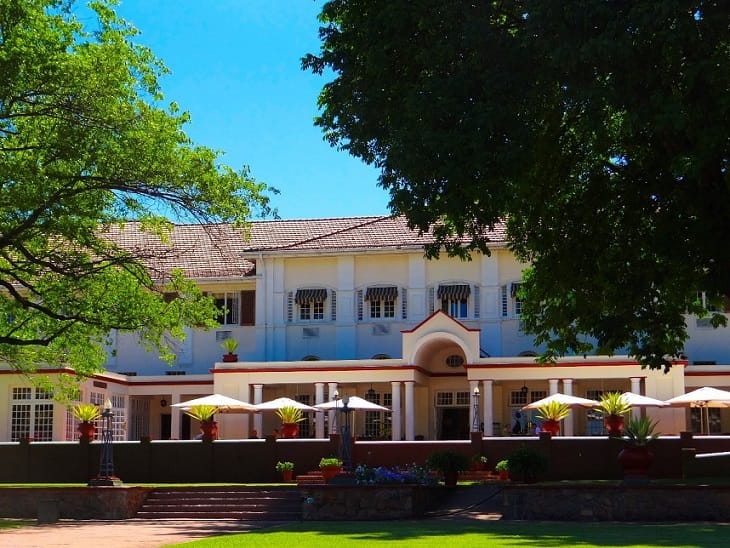 The trip begins in Johannesburg, South Africa, with a flight to Zimbabwe. At the airports, Brand g handles all passport and entry issues, dealing with local officials to smooth the way for our guests. (This is especially welcome in developing nations.)
Victoria Falls is a special corner of Zimbabwe that borders Zambia, and the waterfalls cover the border between the countries (you can actually visit the falls from either side). Brand g takes over the Signature Stable Wing at the splendid Victoria Falls Hotel, a member of Leading Hotels of the World.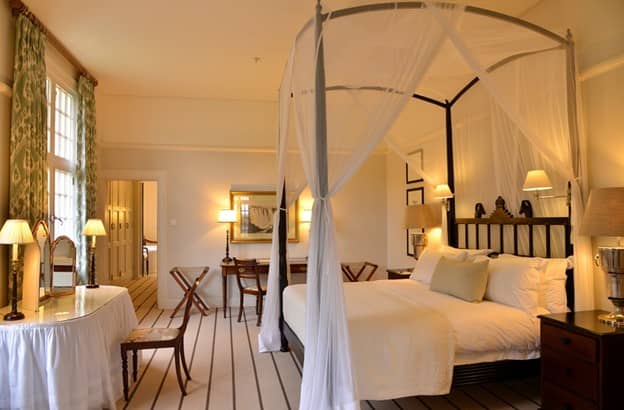 Here, you'll feel like Meryl Streep in Out of Africa. This grand British Colonial resort, built in 1904, has large, beautifully appointed rooms (with modern bathrooms, of course) and acres of manicured grounds, where capuchin monkeys roam and a family of wart hogs live on the back green.
You'll spend two nights here visiting the falls, taking a helicopter over them (where you can see not only the whole of the falls but migrating herds of animals), and enjoying excellent meals at the resort. You can also take optional adventure tours, like a (truly) death-defying zip line, jungle canopy tour or the famous Devil's Pool at the lip of the falls.
https://www.victoriafallshotel.com/
SAFARI – SOUTH AFRICA
From here, we fly to South Africa to begin the safari portion. And this is like no other safari you can imagine. Brand g takes over a camp at the famous Lion Sands and makes it all-LGBT+. Lions Sands is on a private game reserve and feels like a Four Seasons on the savannah. The rooms are all suites, ranging in size from 581 to 883 square feet, plus decks ranging from 130-377 square feet. The suites are, of course, air conditioned, and have spectacular bathrooms (some include outdoor showers).
All meals and top shelf drinks are included, so you can gorge to your heart's content. (You can also order room service, if you're peaked from a game drive and wish to enjoy a meal in your suite.) The food here is prepared by a team of extraordinary chefs, and everything is outstanding. You'll have the chance to try all kinds of unusual meats, like antelope, crocodile, buffalo, etc., but of course they'll happily prepare more typical fare if you prefer.
One evening, you'll be taken to an outdoor spot where a complete restaurant has been set up just for this meal, and you'll enjoy a glorious buffet in the glow of tiki torches. It's a stunning, Instagram-worthy moment.
https://www.more.co.za/lionsands/river-lodge/
Although Lion Sands is a private game reserve, there are no fences, so animals come and go, mate, and behave just as they would anywhere else in the wild. And since predatory animals like lions, leopards, etc. hunt in the evening, when you leave your room to go to dinner, a ranger (with rifle in tow) walks you to the main lodge for your meal.
It also means that there can be unusual interactions with various animals. For example, during our safari, Brand g co-owner Jeff and his husband had an elephant walk up to their patio and stick the end of his trunk onto their glass door. One pair of guests were late to dinner one night because they got a call from their ranger that baboons were mating on their roof, and they had to wait until the monkeys were finished to leave their suite.
Twice a day (for a total of six or seven game drives during your stay in the camp), you'll go on game drives in open air jeeps, with a guide and a ranger. During each of these game drives you'll see dozens of animals – lions, giraffes, elephants, elk, buffalo, rhinos, leopards, etc. It literally never gets old.
Every jeep is equipped with a rifle, but our guide had never had to use it in her five years at the reserve. As she explained it, the animals look at the jeep and the people in it as one nonthreatening entity (none have ever attacked them). So, they ignore the jeeps and just go about their business.
Unlike being in nearby Kruger National Park, where anyone with a car can drive through and gawk at the animals, and where there can be a line of cars snaking through the park at any given time – on a private reserve, you will almost never see other humans. The space is vast, and each jeep takes its own path. Thus, you typically only stumble onto another jeep of guests when one guide radios another that they have found a good sighting.
For example, one evening, another guide radioed ours that they had found a pride of lions. We joined them at the site and enjoyed 15 minutes of so of watching the father, mother and cubs. At one point, a guest in the other jeep about 30 or 40 yards away flopped his leg over the side of the jeep and was dangling it lazily. Our guide radioed the other guide, and immediately that guide had him slowly pull in his leg back into the jeep.
The lesson here? The animals ignore the jeeps…but still, you don't tempt fate.
And this is why you take a 5-star safari. These are the most exceptional and knowledgeable guides in Africa, and your safety is their utmost priority.
Now, during each evening game drive, you'll also get to enjoy what's known as "Sundowners". As the sun is setting, your guide and ranger will find a beautiful spot, park the jeep, and set up cocktails and hors d'eouvres for you to enjoy. It is absolutely unforgettable to get your buzz on in the middle of the African tundra.
In between the morning and evening game drives, you have a few hours to relax. You can eat lunch, drink, go to the world-class spa, or just relax on your private deck or at the pool. (Some suites also have their own plunge pools.) Trust us, you will not want to leave this corner of wildlife paradise.
CAPE TOWN, SOUTH AFRICA
When the safari portion concludes, we go from luxurious savannah living to luxurious city living, and fly to Cape Town, South Africa, which is one of the world's most cosmopolitan cities. Bordered on three sides by water and one the fourth by flat-topped Table Mountain, it is simply gorgeous.
Here, we'll stay at the fabulous One and Only resort, one of the absolute best hotels in a city known for stellar hotels.
https://www.oneandonlyresorts.com/cape-town?utm_source=GMBlisting&utm_medium=organic&utm_campaign=ooct-cape-town-gmb
Located right on the water in the "V&A" (the Victoria and Alfred Waterfront, a beautiful collection of shops, restaurants and hotels, and one of the most glamorous areas of the city), this is a truly luxurious property.
While in Cape Town, we'll spend a day visiting the Cape of Good Hope nature reserve, including Boulders Beach, where a massive colony of very friendly penguins live. The scenery here is gorgeous and worth every bit of the two-hour bus ride.
We'll also spend a day in the Cape Winelands, visiting several top wineries for wine and olive oil tastings. You'll also get to enjoy the most glamorous picnic lunch you may ever have. These areas outside Cape Town – Stellenbosch and Franschhoek – are as lovely and memorable as the award-winning wines.
We also provide you with free time here, since there are a multitude of fascinating activities to indulge in in Cape Town, like taking the ferry to Robben Island (where you can tour the prison where Nelson Mandela was held prisoner) or taking the cable car to the top of Table Mountain for magnificent views, particularly at sunset.
There are certainly cheaper package trips to Africa. But none will provide you with the level of comfort, safety and #lifechanging memories that Brand g's trip will. My husband and I have been lucky enough to travel to many, many countries – but we probably tell more stories about this trip than any other. One of our friends who traveled with us is a luxury whore. He only wants to travel with the finest accommodations, etc. He LOVED this trip – it's his favorite of all time.
And I'd lay money that it will be yours, too.