There's one simple answer: Europe at Christmastime is a COMPLETELY different experience than Europe in summer.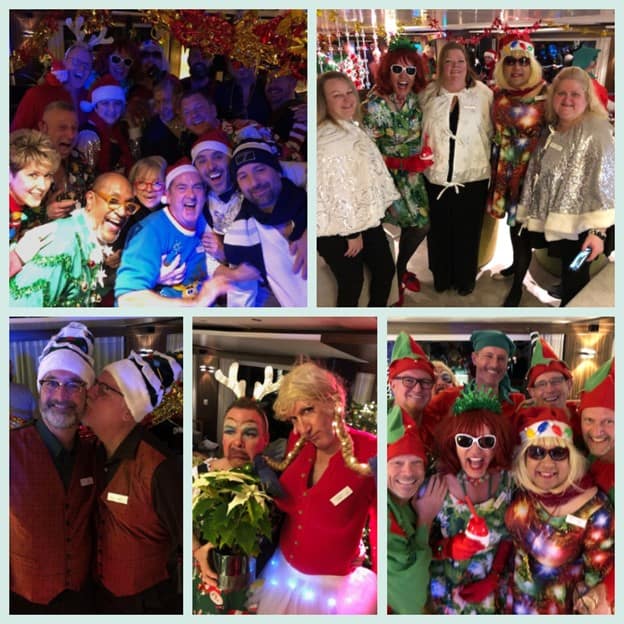 Most of us have done Europe in the warmer months, and it's glorious. But during the holiday season, it takes on a magical sheen that makes for a wholly unique vacation, unlike anything you experience during the summer. Sure, it's chilly, but thanks to our friend Global Warming, it's often in the 40's (and sometimes even 50's) these days, not the 20's.
At Brand g, we did our first Christmas Markets cruise in December of 2019, and it was a smash. The festive events in the cities and villages, the super charming Christmas markets, and the whackadoodle onboard parties (you haven't lived until you've seen the twisted holiday costumes guests come up with for a Cracked Christmas party) all combined to make an experience so incredibly memorable that we knew we had to make it a regular vacation offering. (Then, of course, the pandemic hit…so December of 2022 will be the next departure.)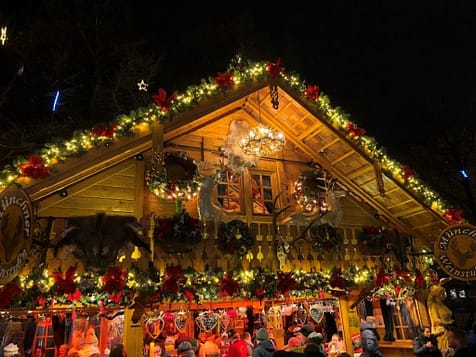 Here were the kind of comments we got every day of that trip, which should help explain what's so special about seeing Europe while you're wearing a coat and scarf:
"It's magical."
The charming Christmas markets, with their wooden kiosks selling adorable tchotchkes and mugs of hot chocolate and gluhwein (mulled wine with spices), are a quintessentially European experience – one you can ONLY get at Christmastime.
And the Germans and Austrians take holiday decorating as a personal challenge. The streets, the palaces and the shopping districts are all kitted out with gorgeous lights and massive Christmas trees and Santa and nativity displays, one more over the top than the next. It is impossible not to feel like you're in a crystal snow globe or a cuckoo clock.
"It's like a family Christmas, but fun."
We all love our relatives. Or at least claim we do. But for those who find holiday gatherings a stressful experience, this early December getaway can be either an antidote to what you just endured for Thanksgiving, or a tonic to help you get through the coming Christmas week without buying a gun. Being with your chosen family of gay folk for the holidays is an incredible gift to give yourself.
It also makes a fabulous present to give to that special someone. Just sayin'.
"We always go on warm-weather vacations, and never thought we'd enjoy this so much."
Sure, you can't walk around on the top deck of your cruise ship in a thong (unless you pair it with a faux-fur fling). Having to bundle up a bit is a foreign experience for many travelers who only do vacations that involve shorts and tankinis. But because it's chilly, you're never sweaty and tired. You have endless excuses to rub up against hot guys or girls. And you get really unique, adorable photos.
"Less Americans!"
In summer, Europe is so overrun with Americans that Vienna might as well be Cleveland. In the winter, there are far less tourists overall (although it may not feel like it at the Christmas Markets, thanks to their popularity). Which means less clueless people wandering into your photos. Less waiting in lines in at attractions or restaurants. And more chance encounters with actual Europeans. And isn't that what you go to Europe for?
(Gluhwein tasting)
"We had experiences you can only get during the holidays."
Besides the Christmas markets, there are many other unique-to-the-season events and experiences: There are gluhwein tastings, which will inevitably include some of the renowned German/Austrian baked goods, like Nuremberg's lebkuchen (gingerbread). There are horse-drawn sleigh rides in the northern towns and villages. And a can't miss – the holiday shows at the Opera House and the Kursalon in Vienna, holiday dinner/show combos at gorgeous venues in Salzburg, Austria (shockingly good for dinners served to 200 diners at once), and in many other venues in cities big and small.
(A beautiful 50-something afternoon)
"We had a blast onboard."
And then, of course, there are things like the festively decorated river cruise ship, the German and Austrian Christmas-style dinners and the signature Brand g entertainers doing specially-themed holiday shows, which are alternately thrilling and disturbing, depending on whether you're talking about a Broadway diva or a drag queen.
Ask anyone who took our 2019 cruise, and you'll see why this is a once-in-a-lifetime event. So grab your santa hat or dreidel and your sleigh bells, and get ready for a holiday experience you'll never forget.
To book our next European Christmas Markets River Cruise, DEC 4 -10, 2022 click HERE